Mr Peter Huang lives in an 18-year-old condominium in Boon Lay which does not have an electric vehicle charging point. Nor are there plans to install one.
But that has not stopped the 36-year-old musician from buying a Hyundai Ioniq Electric, the first mass-market battery-powered car available here.
"I have done my research. I can survive on public charging stations," he says.
In February this year, he traded in a two-year-old Honda Jazz for the tailpipe-less Hyundai, which he first chanced upon in January when his band were playing at the Singapore Motorshow's Mitsubishi booth.
The booth was opposite Hyundai's. Over three days and in between sets, Mr Huang found himself listening repeatedly to Hyundai's local agent Komoco Motors sales manager Vincent Ng talk about the Ioniq Electric.
After a while, his interest was piqued enough for him to find out more, especially since he enjoyed driving the Geely Emgrand EV300 in China and the Nissan Leaf in California last year. Neither electric model is available in Singapore.
He went for a test-drive and was wowed by three things about the Ioniq Electric.
The 10-year warranty on the battery was a sweetener, but the thing that won him over was how silent the car was.
"I am a musician, so my ears are acoustically tuned. The silence of the car spoke loudly to me," he says.
He bought a red car, which he took delivery of in March.
Married with no children, Mr Huang performs all over Singapore, and typically drives 80 to 100km a day. Whenever he needs to recharge the car, he would drive it to Komoco Motors, which provides free charging for the first year. He has his lunch nearby and picks up the car when it is ready.
He would sometimes go to The Heeren in Orchard Road, which provides free charging. "I will watch movies at Cathay Cineleisure while the car is being charged," he says.
He has not had range anxiety so far and says he has mastered the skill of maximising the range.
"On expressways, I drive behind rubbish trucks and buses, the bigger the better, and I activate the autonomous cruise control mode. They block out the air resistance and I can feel the car being sucked along," he says.
The downside of doing this is crawling at 70kmh when he is tailing a bus and perhaps a tad faster when he is behind a truck.
But Mr Huang, who describes himself as a nerd, does not really mind. In fact, he sees himself as sort of an electric-car ambassador.
"I'm a test case," he says. "If I can drive an electric car using public charging stations alone, other drivers can too."
WHAT'S IN THE BOOT?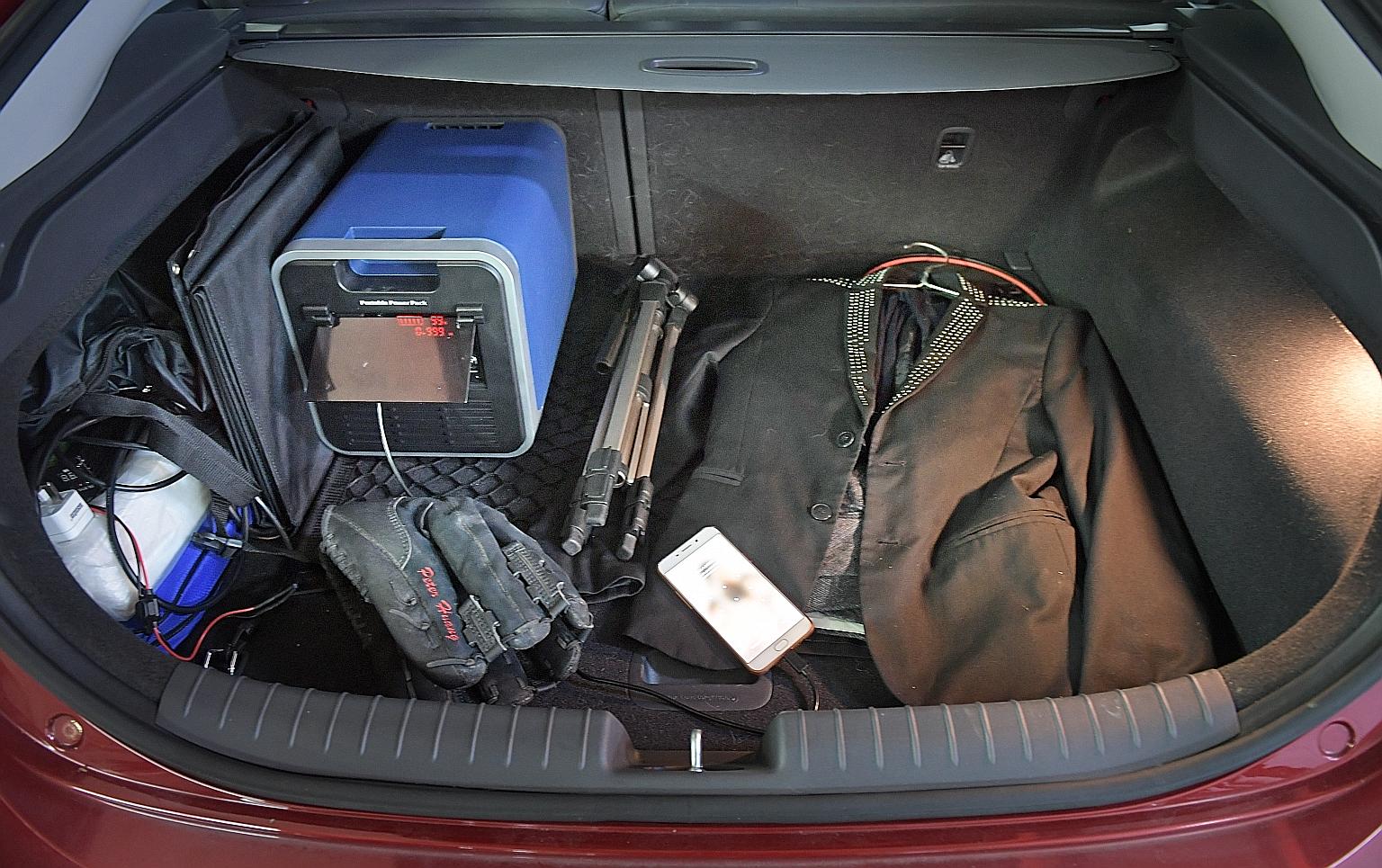 • A portable battery for musical instruments
• A baseball glove (Mr Huang is a council member of the Singapore Baseball and Softball Association)
• A tripod
• A jacket he wears for his performances