Ah, SUVs. With their raised seating position that offers an all-round practicality and rugged good looks, the appeal of these cars will always be there. I've always had a thing for SUVs, even though such cars are often considered blasphemous for a lot of purists out there.
Still, I always thought a five-seater SUV made little sense. Yes, you get more head, leg and shoulder space, but you could still only fit five. If that's the case, I'll be better off with a sedan, since the car would serve the same purpose and then some. Thus, a seven-seater SUV like the Hyundai Santa Fe would be a more sensible choice if you're considering an SUV over an MPV to haul your family.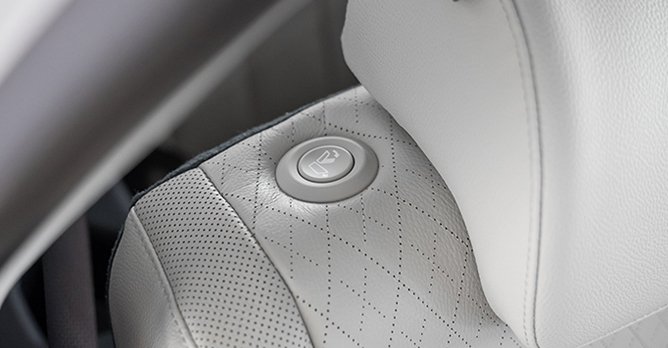 But most, if not all, seven-seater SUVs have their disadvantages, too. And they are mostly related to the lack of space, be it in the boot compartment when all seats are in place, or the lack of it in the third-row seats.
So if you're in the market looking for an SUV to ferry the family, you're left with very little choices. You could consider the Toyota Alphard or the Maxus G10, but they lack style and are far too boxy. Then there is the BMW X7, but it'll set you back half a million bucks.
High on style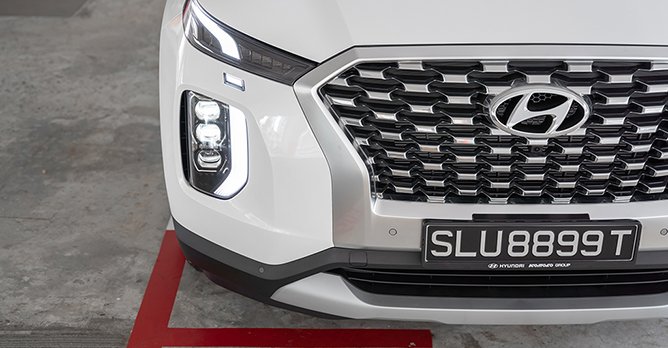 Thankfully, there's the eight-seater Hyundai Palisade, the Korean carmaker's all new flagship model that's high on style, so you won't have to be afraid of people perceiving you to be a 60-year old man with a thick gold bracelet and a man-purse under your armpit when you pull up at a parking lot.
The SUV is wrapped in a highly alluring sheet metal Hyundai has every produced, with an overall shape and design that are more purposeful than pretentious. The pair of fanged LED headlamps meet the huge octagonal honeycomb grille, accompanied by curved daytime running lights that do not look out of place. It's even down to the right amount of silver plastics being used that help differentiate the Palisade from other SUVs.
High on space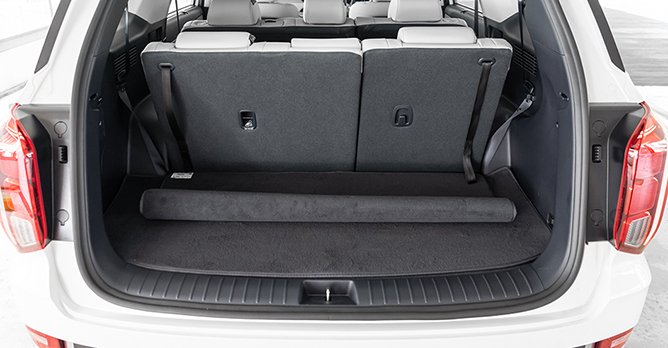 Also helping to differentiate itself is on the inside. Space is the royal order for the day, with ample head and legroom for all eight Asian adults on board. Where most three-row SUVs fail, the Palisade excels, and this can be seen from the boot space alone.
Here, with all seats in place, hauling capacity stands at 311 litres - some 100 litres more than most three-row SUVs. Knock the second row seats down and space increases to 704 litres. In two-seater configuration, space is a whopping 2,445 litres - which will be more than enough for your Ikea runs.
High on luxury and features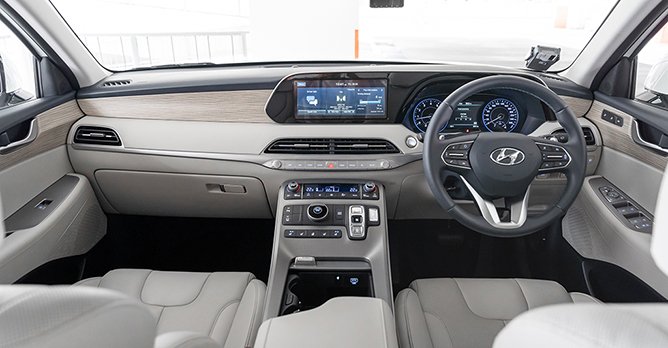 Other than space, the new Hyundai also manages to trump its peers with its opulent appointments and the generous number of features, which do well to position the Palisade as a luxury-oriented family SUV. And you can see it the moment you step inside.
You get a user-friendly 10.25-inch infotainment system as well as an instrument panel with a 7.0-inch screen smacked in the centre, an array of buttons on the centre console that helps unclutter the cabin, split sunroof that brightens the already light-coloured cabin on our test car and ventilated sumptuous seats, just to name a few.
But what really takes the cake has to be the suite of safety features, and it's most evident with the Rear Occupant Detection system. If you leave and lock the Palisade with your kid or pet sleeping in the vehicle, the system will sense motion via an ultrasonic sensor and will sound off an alarm and automatically unlock the doors.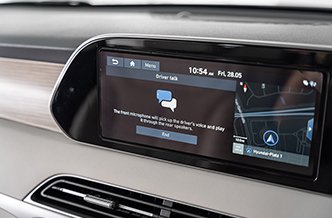 Other driving assistance technologies include Blind spot Collision Warning and Rear Cross-Traffic Collision-Avoidance Warning, which enhances driver awareness to the rear of the car. Using the system's radar sensors when reversing, the safety system can warn you if vehicles approach from the rear side.
Another cool feature is the ability for the driver to communicate with rear occupants without raising your voice. Dubbed Driver Talk, this is achieved by picking up the driver's voice through a front microphone and playing it through the rear speakers so you can get the attention of the rowdy rascals at the back. Think of it as an in-car intercom of sorts.
Once your message is relayed, and it's time for the kids to take a nap, you can mute the audio playing at the back and continue to enjoy audio entertainment up front via Spotify through the standard Apple CarPlay and Android Auto compatibility.
High on driving comfort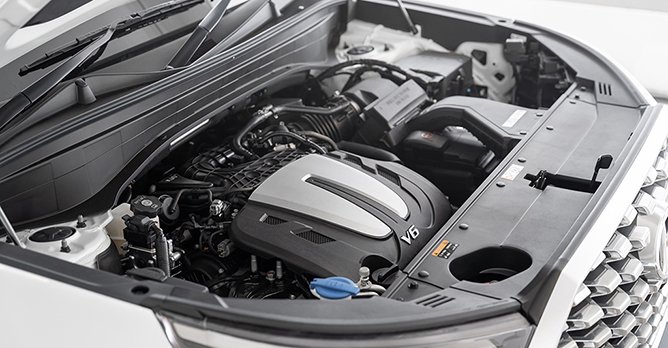 And you can do so comfortably while on the move. The thing about the Palisade isn't so much about how powerful it is. Instead, it's about how the car glides with high levels of refinement and comfort that makes it such a pleasant experience.
Yes, the 3.5-litre V6 will shoot out 274bhp and 334Nm of twisting force to the front wheels, which is more than adequate to get the car moving at a decent pace. In fact, completing the century sprint in just 8.2 seconds is nothing short of impressive for a car that weighs 1.9 tonnes.
But these figures are probably just there for the sake of filling up pages on the brochure. It's important, yes, but it's not the main point. If figures are what you're looking for, then the Hyundai i30 N hot hatch should be your consideration.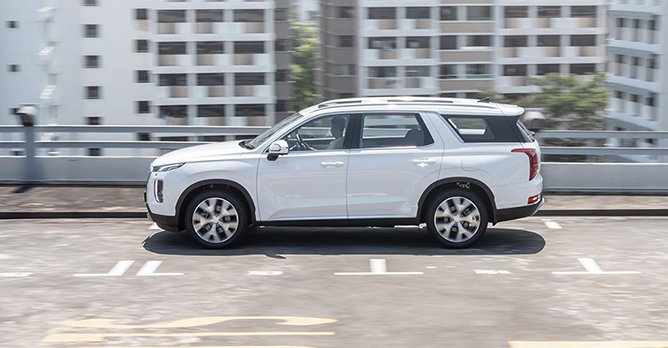 No doubt the Palisade isn't going to win any straight-line races or cornering contests, but it is able to get the job done with minimum fuss and maximum competency.
On the highway, the SUV will happily cruise along and perform overtaking manoeuvres, if necessary (since most cars tend to give way when they see the Palisade charging towards them from behind), with little to complain about.
Around town, however, where pimpled roads are more commonly felt, the responses of the steering aren't lost and the suspension recovers well without sending any vibrations to the cabin.
And despite riding on biggish 20-inch wheels, the ride quality is never harsh while road noise is always kept well at bay. There is, however, some intrusion of wind noise, but that only happens when I'm driving at a much higher speed.
High on affordability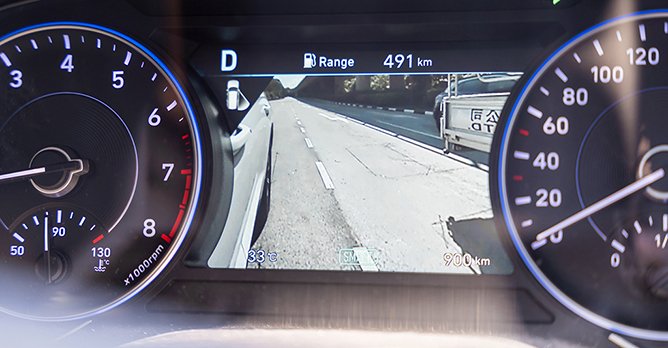 At $219,999 (as of 20 May 2021), the Palisade is that one of a kind SUV in the market right now that offers seating of up to eight adults, offers a luxurious cabin with ample features and puts on the sort of on-road performance that allows you and your occupants to filter out the world.
In that sense, Hyundai's flagship SUV objectively stands firm and tall for all its functionality and build quality for its price. It's not the sort of amount that a lot can fork out, me included, but it's a lot, a lot of car for the price.
And if you're like me, and you think that five-seater SUVs make little sense, and getting an MPV just isn't your cup of tea, then I reckon the Hyundai Palisade is something you should consider, more so if you can afford the price tag. Trust me, there's nothing blasphemous about an SUV, especially one that offers more than seven seats.
Julian Kho

Photos by Low Fai Ming