By Christopher Tan, Senior Transport Correspondent
SINGAPORE - Sitting between the X5 and X7, BMW's biggest sport utility vehicles (SUVs), the Palisade is Hyundai's most massive car yet.
Its 3.5-litre normally aspirated V6 is a departure from the South Korean brand's predominantly small-displacement vehicles as well as its growing zero-displacement electric cars.
That makes the 4,980mm, 1,950kg Palisade an elephant in the showroom, in more ways than one.
The new eight-seater is proof, however, that big combustion engines still have a place in the automotive landscape.
An electric alternative would require an enormous battery pack, which would result in a stratospheric price tag.
As it is, the Palisade is the priciest Hyundai at $216,999. Still, this compares favourably against German equivalents, prices of which start from at leaststart from well above $350,000.
It may seem inappropriate to compare a Hyundai with a Continental luxury car, but the Palisade has several qualities which make it a premium product.
First, its ride quality is outstanding, even when compared with the air suspension-equipped Mercedes-Benz S-class. It has a good blend of pliancy and damping, allowing it to iron out most kinks on the tarmac and to resist the pitching, rolling and bouncing often associated with big, tall hefty SUVs.
Second, its big-capacity petrol engine gives the Palisade a creditable level of refinement.
On paper, peak output is attained at 5,000rpm and above. But in practice, there is hardly an occasion which calls for anything more than 3,000rpm.
In fact, there is so much torque going to the front axle that you often have to take off gingerly to avoid wheelspin.
On the go, the Palisade is relaxed yet responds readily and linearly to throttle inputs. Despite its size, it negotiates narrow carpark ramps with relative ease. Only the tightest U-turns might be a tad challenging.
Its cavernous cabin is well- insulated against noise, vibration and harshness, which are already inherently low in a vehicle powered by a big non-turbo engine. On paper, the Palisade clocks an 8.2-second century sprint, but it feels significantly swifter.
There is some efficiency penalty for this formula, but it is not as bad as expected. The test-car averages 11.4 litres/100km, which is not too far from its declared 10 litres.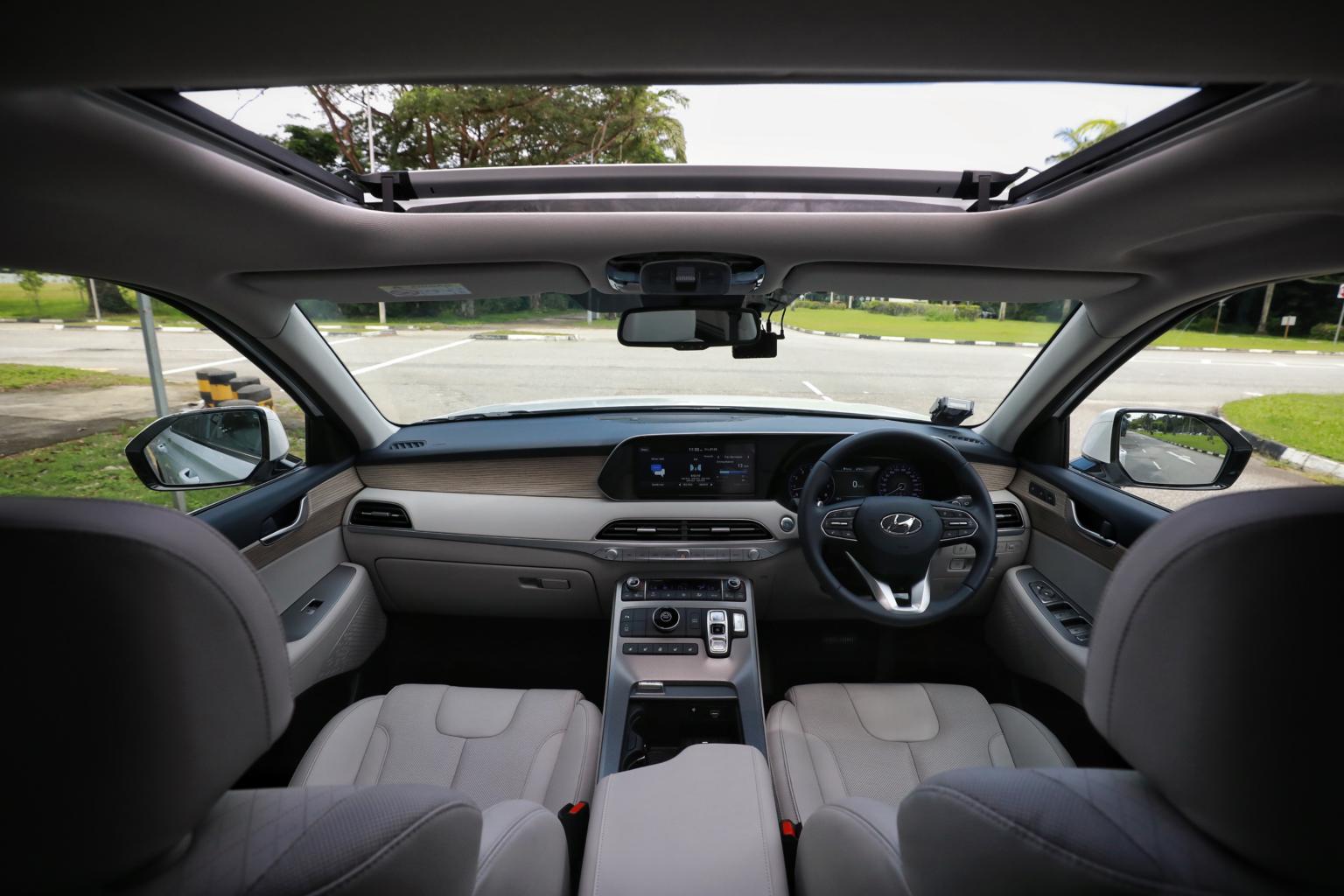 As an SUV, the Hyundai ticks several boxes.
It is statuesque, with its road presence underscored by its near-5m length, near-1.8m height and a massive grille with bold threedimensional design elements. It is pretty solid too, compared with the hollow plasticky nose jobs.
Inside, the car with a 2,900mm wheelbase offers plenty of usable space.
Second-row seats can slide and flip to facilitate easy access to the third row. This last row is not as squeezy as those in other multi-seat SUVs.
A rear air-conditioning digital panel controls the climate for second- and third-row occupants, which have their own vents. Its solar-coated glass ceiling makes the interior brighter and airier while keeping most of the heat out.
Even with all seats occupied, the Palisade has more than enough stowage for weekly grocery runs.
The trim level is Premium Economy, but the cockpit is half a notch above.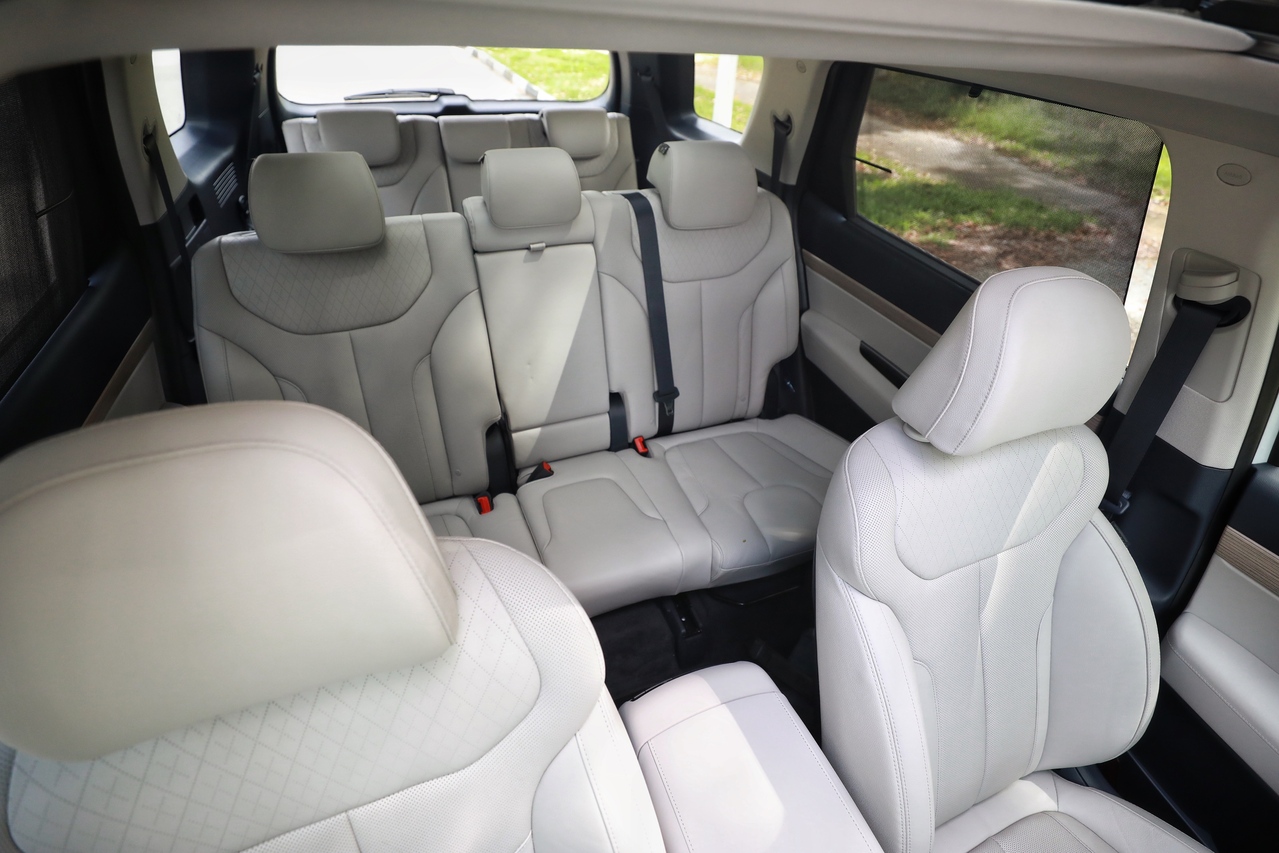 The push button transmission console stands out. It sits next to a sizeable storage-cum-cupholder compartment with a contactless phone-charging cradle.
Unlike a number of other examples, this compartment's roller cover is sturdy and well-oiled. Carmakers fail to understand that it is this kind of attention to detail which is more enduring - not electronic gizmos or oversized fingerprint-magnet touchscreens.
Still, a massive SUV with a huge engine which attracts a $20,000 emission surcharge sticks out in an era of downsizing and electrification. If that makes the Palisade an elephant in the room, it is the last of its kind.