Many Tesla fans might tell you that their favourite brand has brought Electric Vehicles (EVs) into the mainstream. But, it really is the Korean brands, namely Hyundai which has democratized electric mobility.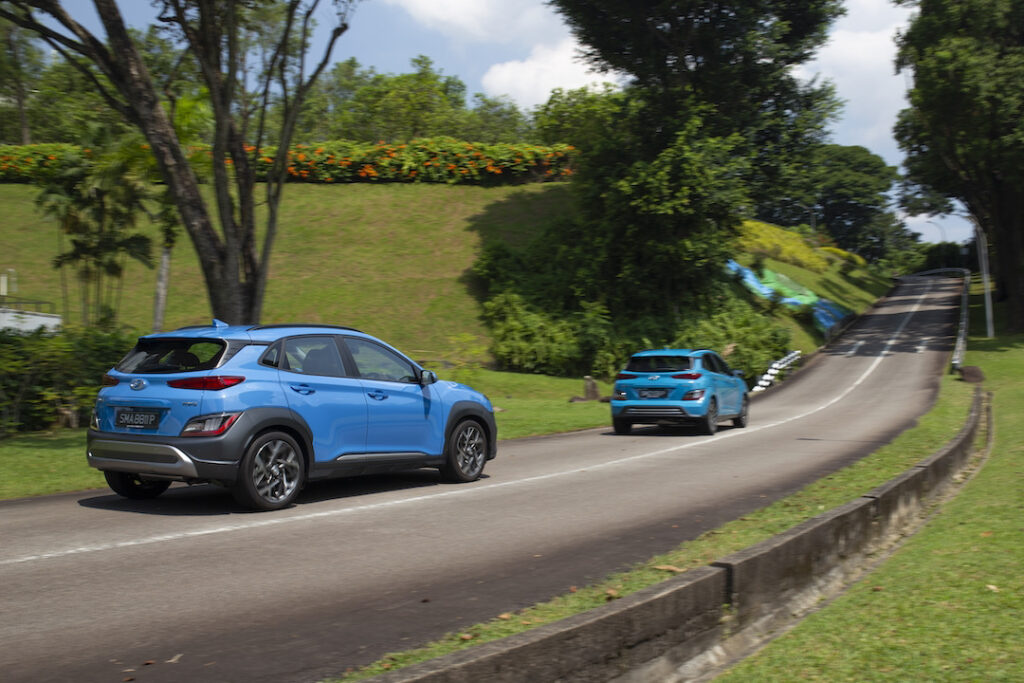 Sub 2-second 0 to 100km/h sprint times or the ability to make fart noises with your car are not going to bring EVs into the mainstream. Instead, carmakers should produce quality cars with realistic real-world range and performance, and most importantly, make them accessible with a compelling price point.
The last point is tricky, but this is exactly what Hyundai has done with models such as the Ioniq, as well as the Kona driven here. For starters, the usable range of both EV models is more than 300km. They also offer a level of features and refinement that meets — or even exceeds — the expectations of their current COE prices in the region of $140k.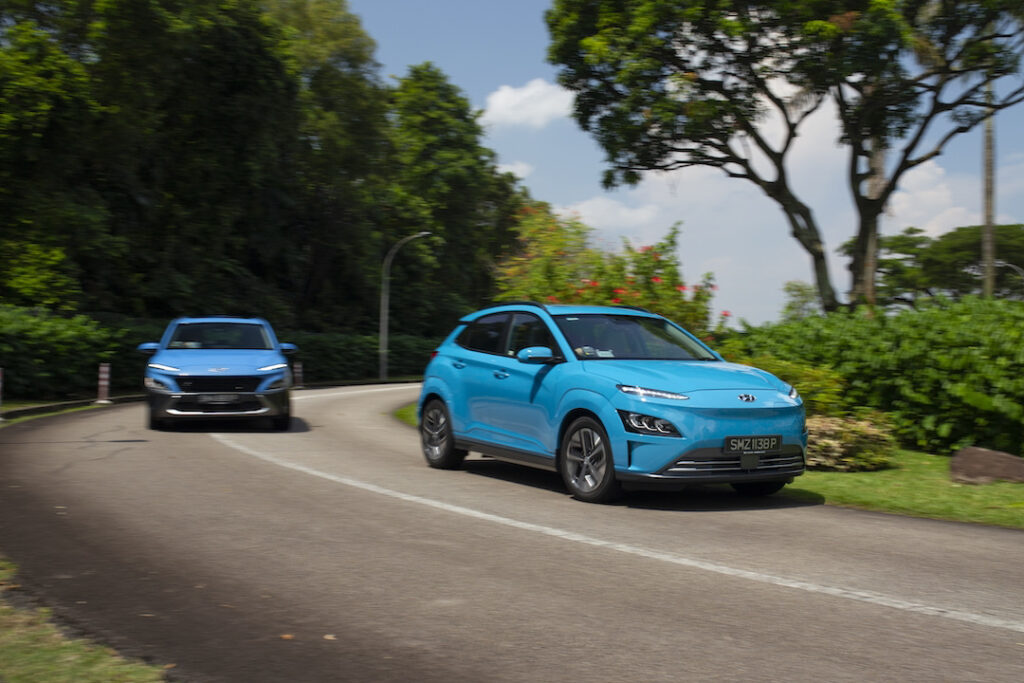 KONA Electric: What's new?
The Kona is perhaps the more desirable of the pair. Its crossover styling keeps with the unstoppable demand for Sport Utility Vehicle (SUV) body styles that no brand seems to be immune to.
Its sleeker and cleaner exterior imparts a greater sense of aerodynamic efficiency, which is key to the Kona Electric eco-centric ethos.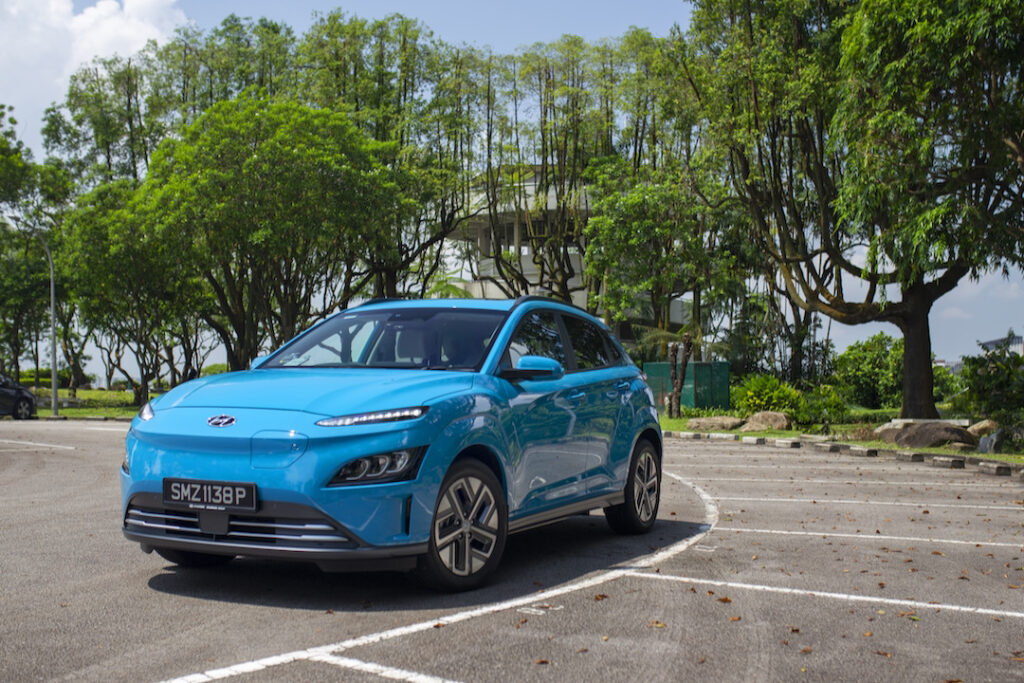 Inside, an 8-inch infotainment touchscreen takes centrestage. From here, features such as Android Auto and Apple CarPlay can be accessed. The wireless latter especially, is still something of a rarity that can only occasionally be found in premium and luxury brands.
Once you have tasted the convenience and user-friendliness of wireless Apple CarPlay, you won't settle for less. A wireless charging tray large enough to accommodate an Apple iPhone 12 Pro Max completes the experience.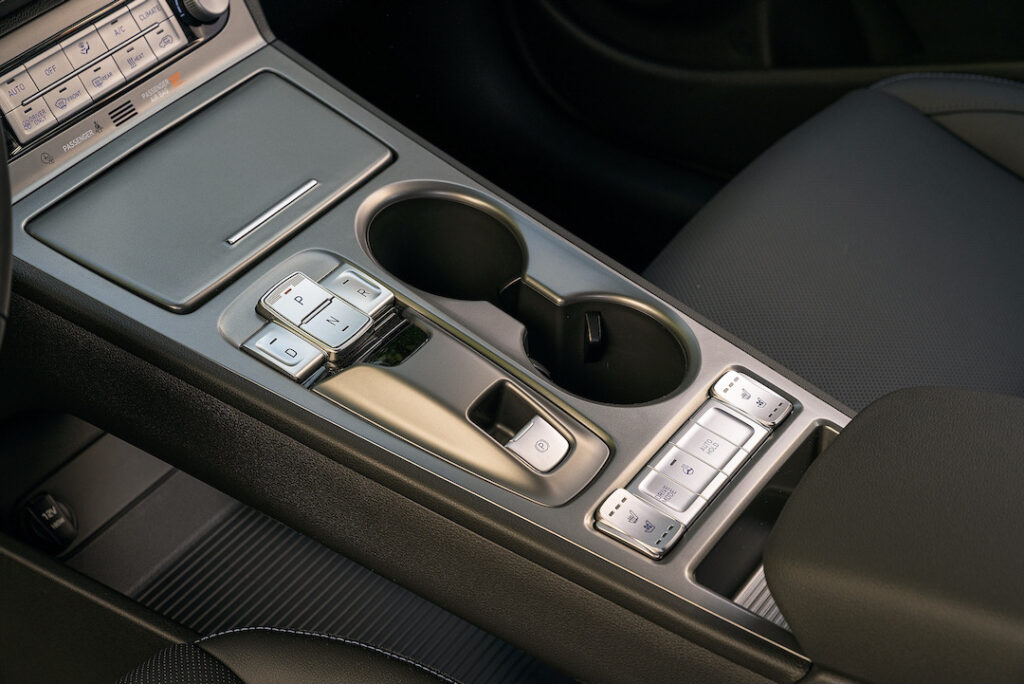 A new 10.25-inch fully digital driver's display is another highlight. It offers a level of customisation hitherto not seen in a mass market brand. Being able to choose from four themes is one thing, but how about customising your lane changer indicator to flash once, thrice, five times or even seven times when you nudge the left column stalk behind the steering wheel? It might sound superfluous at first, but if you think about it, it can be handy.
Other accoutrements include electrically-adjustable front seats that are also heated and ventilated. If you're questioning the relevance of heated seats in Singapore, let me share a tip I recently learnt from a colleague…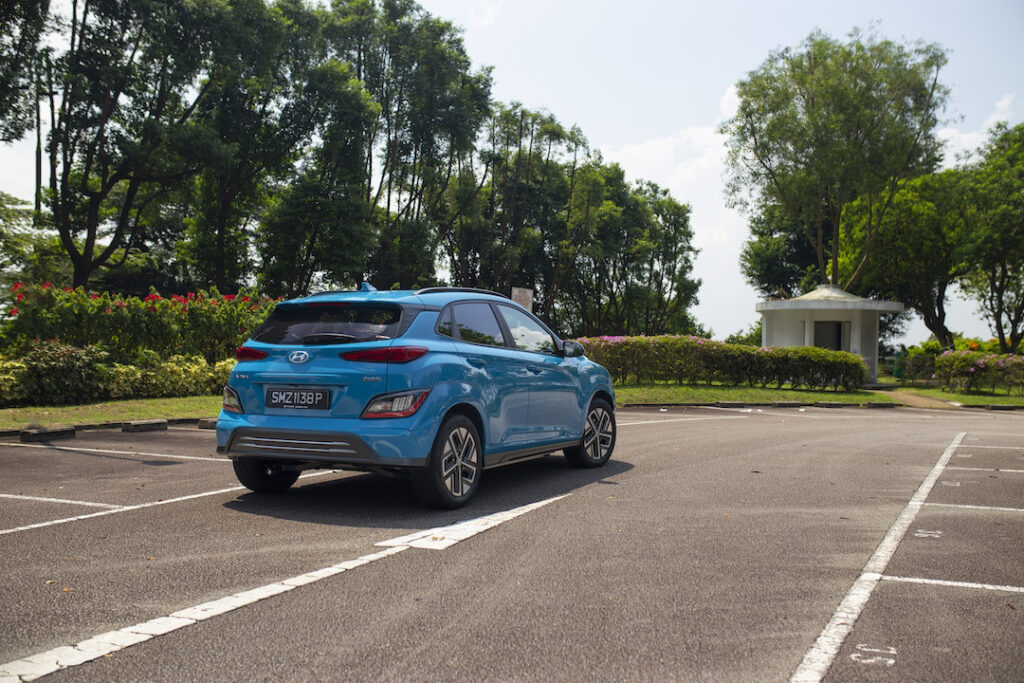 Let's say you've just finished your workout or you're driving home after a long, strenuous day. Sitting in a lightly-heated seat can have a similar, relaxing effect as a warm blanket or a slipping into tracksuit after a run to keep muscles loose and warm. It's soothing for sore backs, necks, and shoulders.
How does it drive?
While EVs are known for fantastic acceleration, the absence of noise and vibration, as well as the linearity of the power delivery tends to make them feel somewhat homogenous in the drivability department. This isn't a big problem for many EV owners however, as they tend to prioritise efficiency and convenience over feel and driver involvement.
The new Kona Electric on the other hand, has an improved braking feel over many EVs we have tested. Typically, the regenerative brakes in these cars tend to be a bit 'grabby', in the sense. They can be hard to modulate and finesse to a smooth stop when you're approaching a red traffic light.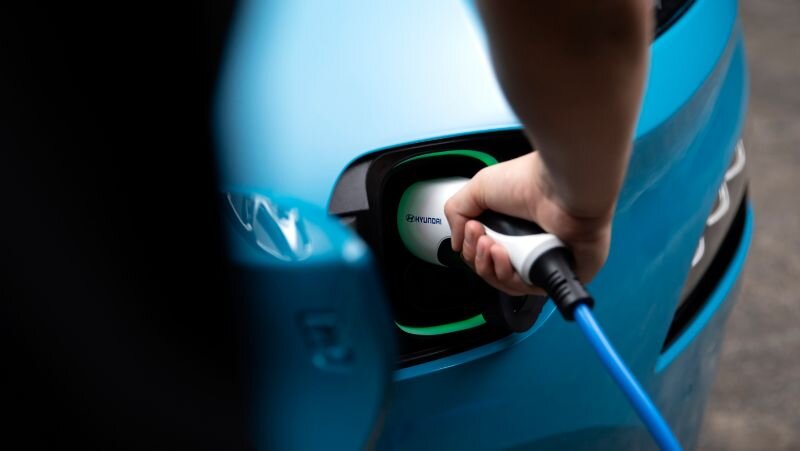 With this Hyundai, its engineers have managed to make the brakes feel as natural as those on an Internal Combustion Engine (ICE) car. One-pedal operation, where the car can be made to slow down dramatically just by lifting off the accelerator pedal, is a unique but polarising feature in EVs. For the uninitiated, it can make for herky-jerky progress.
Hyundai however, makes the deceleration effect variable via flappy pedals behind the steering wheel. As a result, they can be used in a similar way to how a paddle shift gearbox can be used to help slow down in an ICE car though engine braking. Pulling back on the left paddle increases the regenerative braking which slows the car more quickly. Pulling the right pedal on the other hand lessens the regenerative effect. This also allows the driver to tailor the level of energy recuperation according to the driving conditions or preference.
KONA Hybrid: for marathon drivers.
There's a tendency for EV drivers to pooh-pooh a petrol-hybrid proposition as something that's technologically lesser than their purely electron powered cars.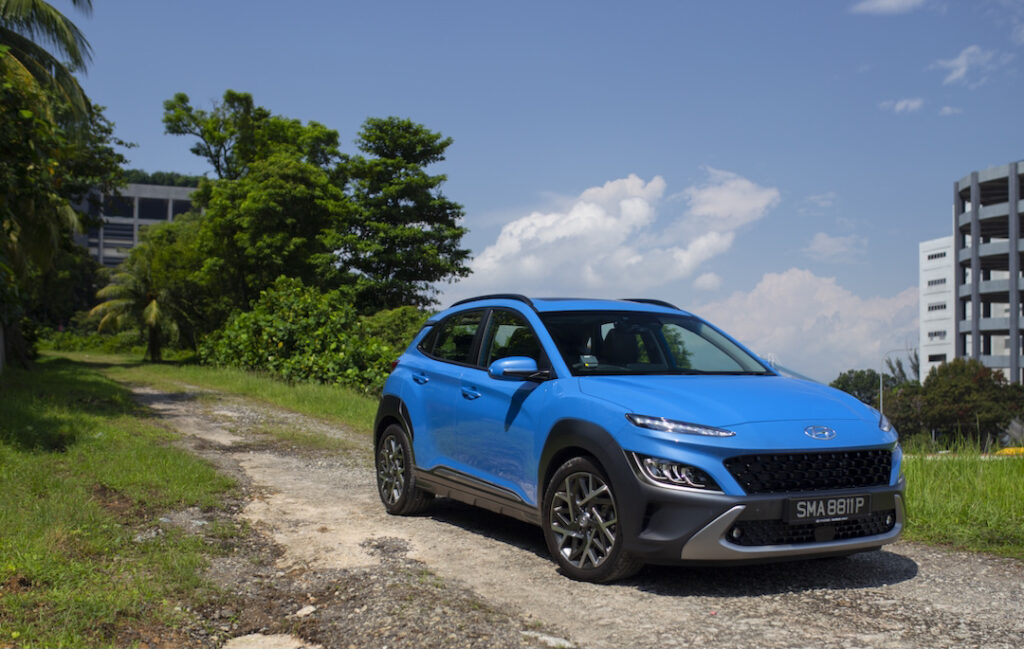 The truth, however, is that there is a place in the world for both; dare I say even for full ICE cars — diesel-powered, even! Just as it is with society, diversity in technology for cars is also a very good thing. We all use our cars in different ways and for many — especially flat-dwellers — access to a charging point can never really be a given.
Charging infrastructure aside, Kona Hybrid would be an ideal solution for those who use their cars for long distances. or have little time for refueling or recharging. On a full tank, this car could theoretically cover 974km based on the size of its fuel tank at it's claimed fuel consumption of 3.9-litres per 100km. This is more than three times the range that the Kona Electric is capable of.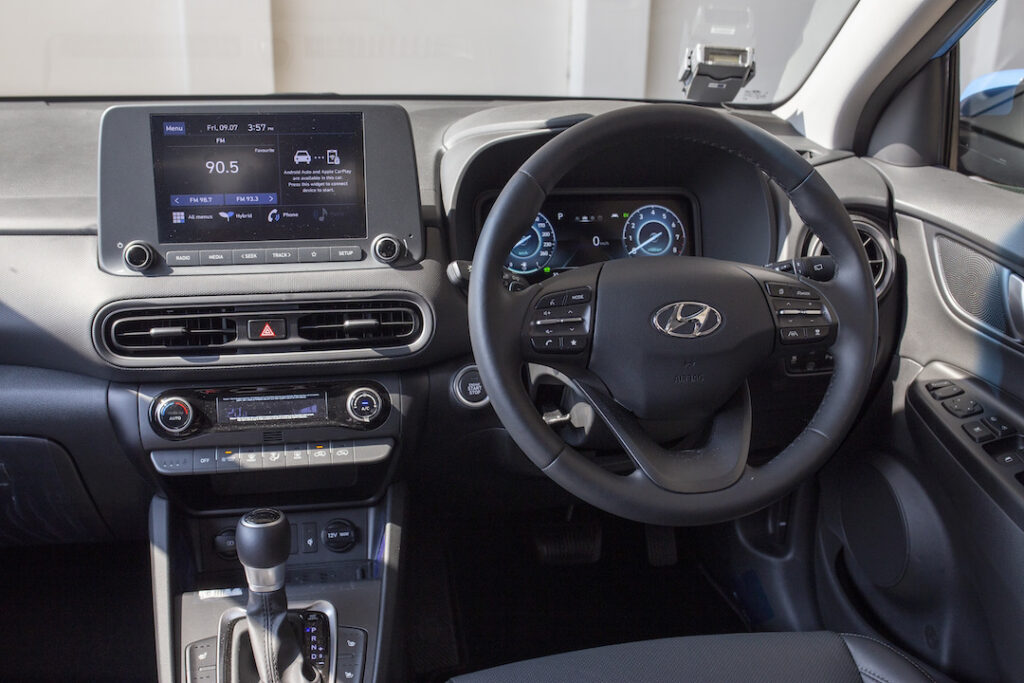 There is also a long-range version of the Kona Electric with a bigger battery that be driven up to 484km between charges, but this is still no match fo the Hybrid model.
For keener drivers however, the appeal of the Kona Hybrid lies in its drivability. Somehow, the steering, the DCT gearbox and suspension set-up (the sunroof model comes with 18-inch tyres, the largest of the Kona range) combine to render an altogether more involving driving experience.
Interestingly, the Kona Hybrid Sunroof model had a Head-Up Display (HUD) that even the Electric models didn't have.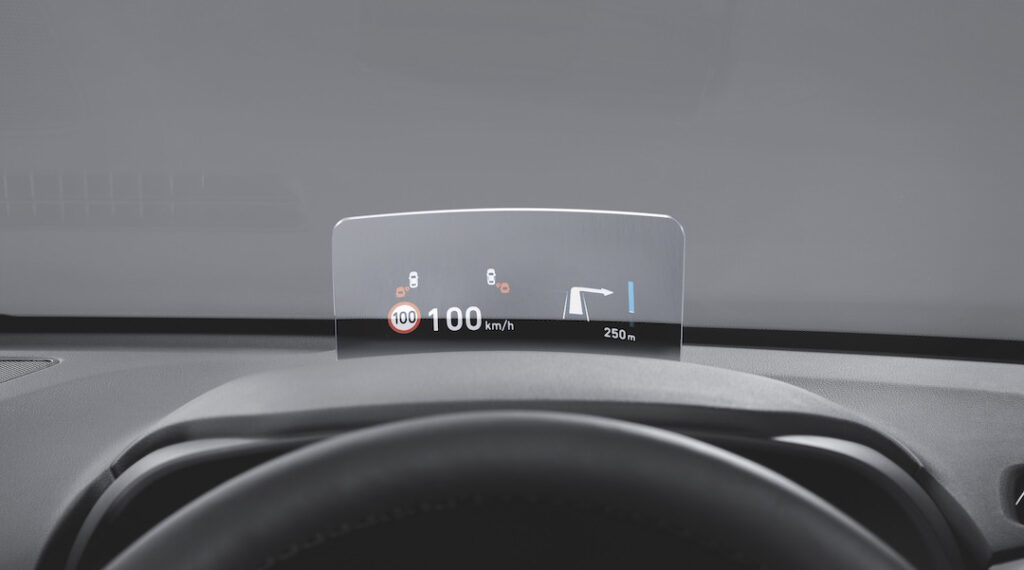 If your everyday schedule requires you to spend lots of time on the road, not only is the Kona Hybrid capable of going the distance, its driver will also be entertained behind the wheel.
Why the Kona is a winner either way.
Both versions of the Hyundai Kona have set a new standard of what we should reasonably expect. This is when you consider useable range and overall performance from a price that starts from sub $110k. Wireless Apple CarPlay and adaptive cruise control is one thing. However, it is the practical features that really count. The ability to charge at speeds of up to 100kW makes this a viable proposition as an everyday ride is that future-proofed for years to come.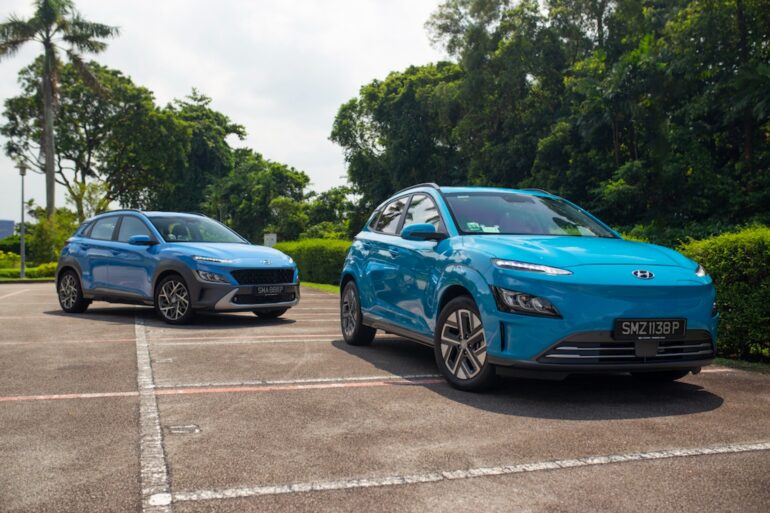 There are cheaper alternatives out there. of course. However, if you want to drive something that doesn't feel like a compromise, then this is where that experience begins.
Need to know.
Hyundai Kona 1.6 DCT Hybrid / 1.6 Sun Roof (S/R) Hybrid.
Power: 131.4hp (system output), 1.6-litre 4-cylinder Dual CVVT with 32kW (43.5hp) electric motor
Torque: 265Nm
Transmission: Single Speed Reduction Gear
Top Speed: 167km
0-100km: 7.9 seconds
Battery: 1.56kWh Lithium-ion polymer
Range (est): (DCT) 974km, (S/R) 883km 
Efficiency: (DCT) 3.9-litres per 100km, (S/R) 4.3-litres per 100km
VES banding: A2
Hyundai Kona Electric Sun Roof.
Power: 100kW (136hp) electric motor, 150kW (205hp) (long range) 
Torque: 395Nm
Transmission: Single Speed Reduction Gear
Top Speed: 155km, 167km (long range)
0-100km: 9.9 seconds, 7.9 seconds (long range)
Battery: 39.2kWh, 64kWh (long range)
Range: 305km, 484km (long range)
Efficiency: 15.0 kWh per 100km, 15.4kWh per 100km (long range)
VES banding: A1
Charging: (10% to 80%)
DC 50kW: 48min, 64min (long range)
DC 100kW: 47min, 47 min (long range)
AC 7.2kW: 6h, 9h 15min (long range)
AC 11kW: 4h 20min, 6h 50min (long range)
Article first published on futr.sg