Now in its fourth rendition, the Tucson receives snazzy technological upgrades and a radical new facelift. However, with its bold and brash outlook, how does it stack up to the fierce competition?
It's practical and spacious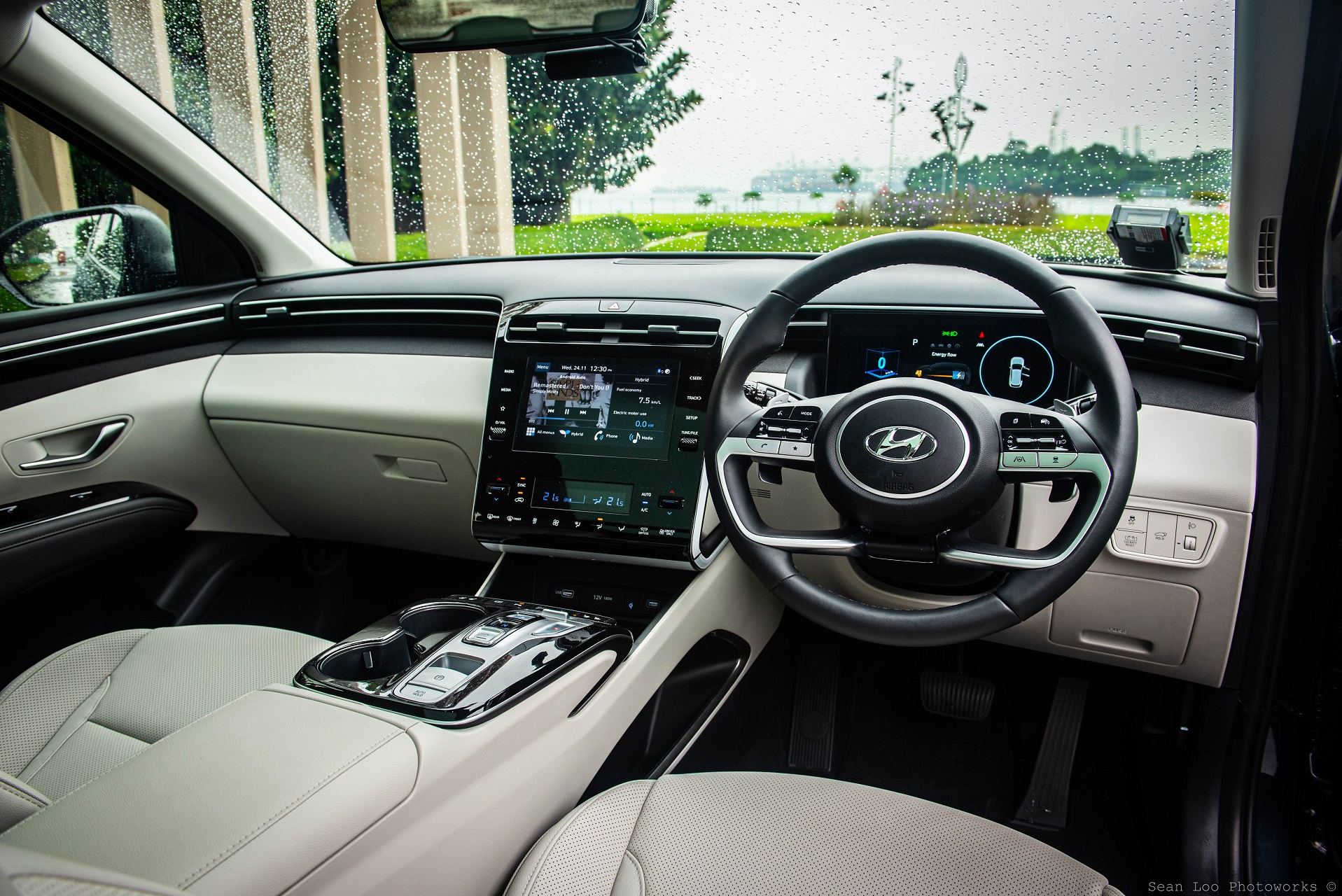 Stepping inside, the first thing that captures your eye is the symmetrical design. The Tucson does not try to over-complicate or hide things, and the clean aesthetics allow you to easily get acquainted with the features in the cabin.
The interior features a myriad of premium materials dotted around the vehicle. Driver touchpoints do get treated with luxurious leather and metal surfaces, however, there is a stark contrast between these and plastic as soon as your hands move anywhere else in the vehicle.
Instead of a gear lever, the Tucson has the same push-button gear selector found on other Hyundai models like the Palisade, which cleans up the look of the centre console and enables you to navigate the various settings buttons without obstruction.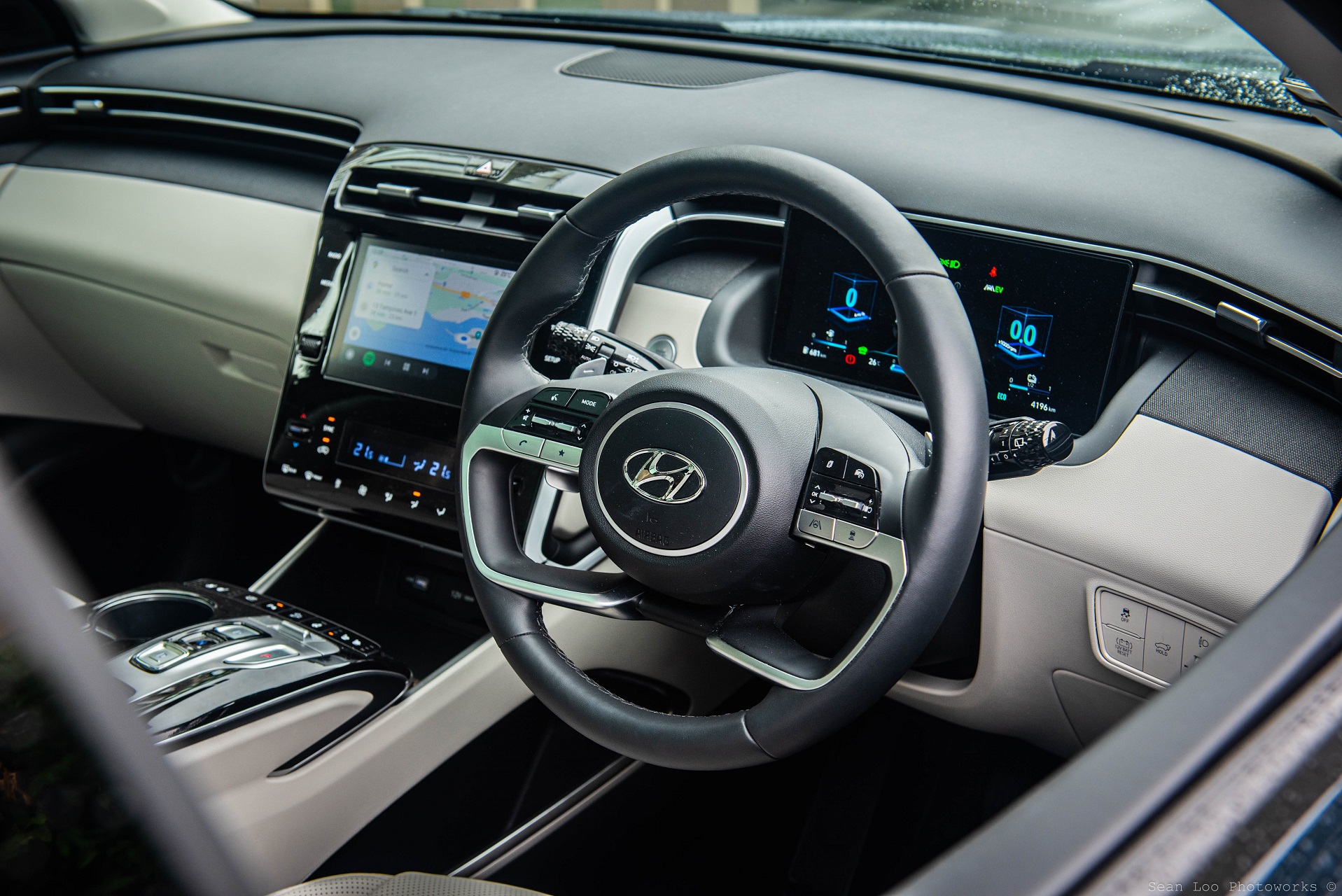 Interestingly, this car features a 10.25-inch open digital cluster that does not come with a recessed area or traditional sunshade. The Hyundai engineers are so confident glare is not an issue they removed it altogether.
In testing, the digital display was indeed clear throughout, even under harsh sunlight. The lack of a sunshade also makes the driver side of the car flow seamlessly with the passenger side.
You get a few funky driving displays too. For those wanting something more unique instead of the traditional gauge dials, you can opt for a cube display that has an entertaining animation. Just make sure you keep your eyes on the road!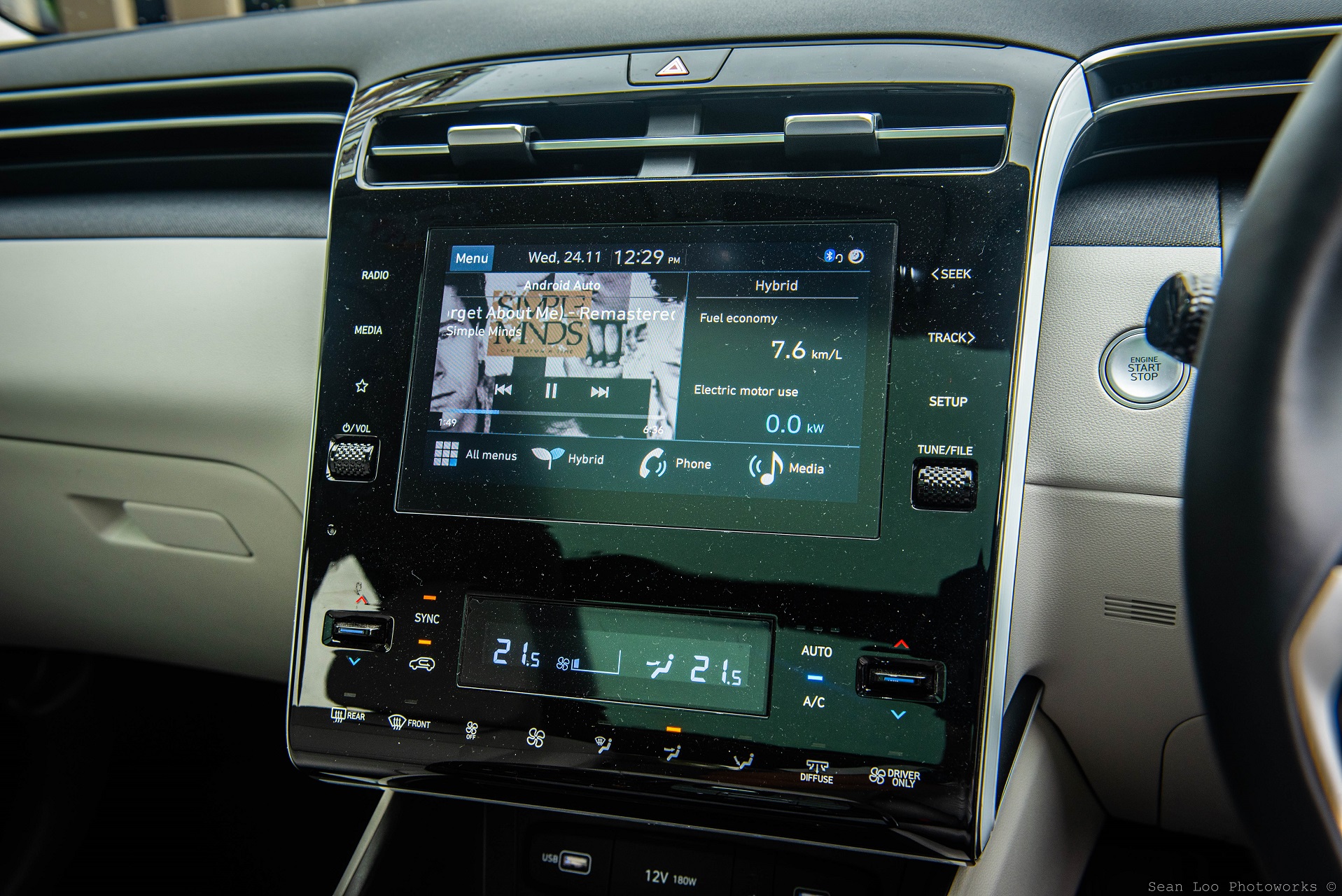 One major plus point you get in modern Hyundai models is wireless Apple CarPlay and Android Auto. Pairing is swift and easy, and apps can be controlled both from the 8-inch touchscreen or via toggles on the heated steering wheel.
The best part about having a wireless connection is you can just chuck your smartphone into the included wireless charger.
No extra cables, no fuss.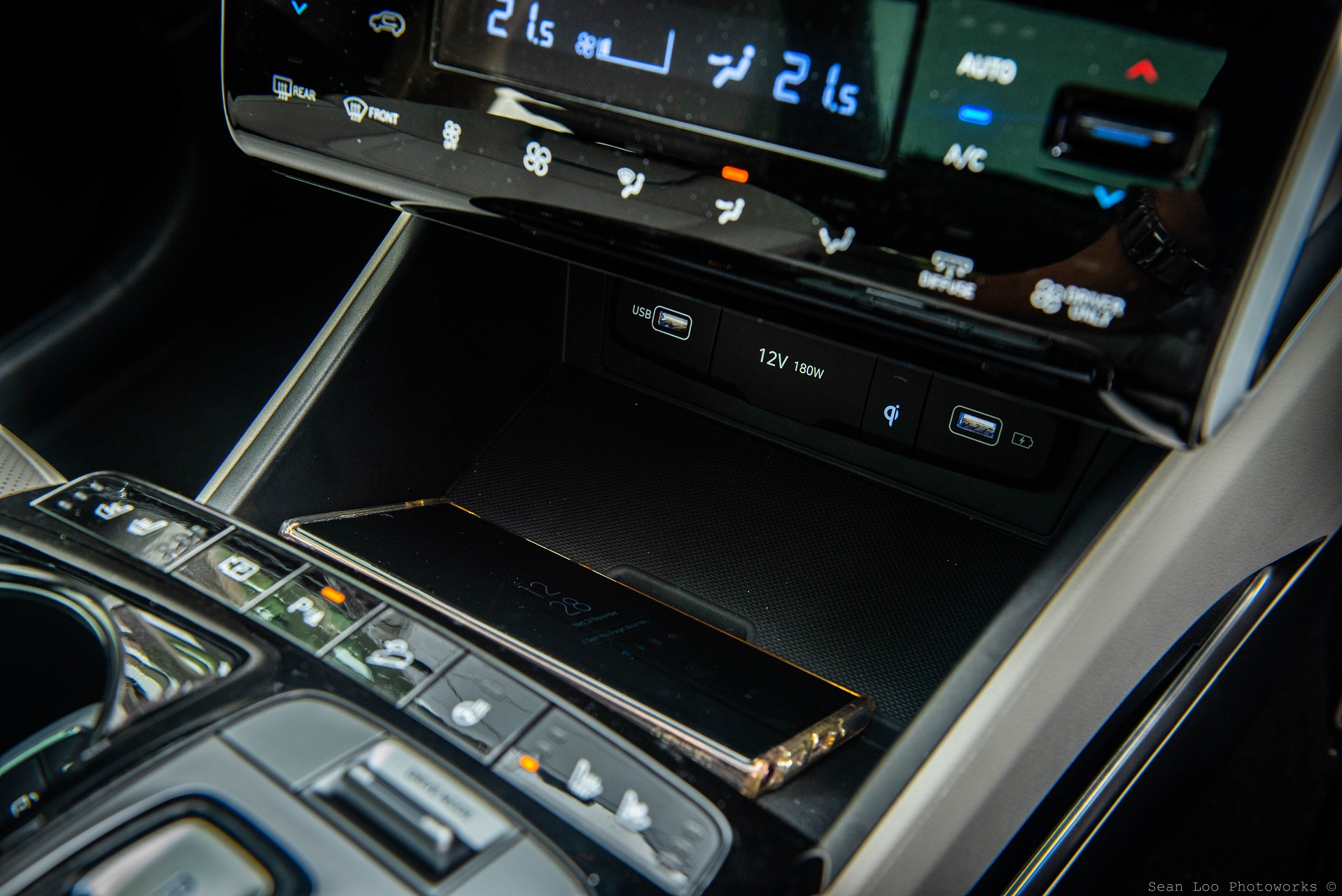 Speaking of wireless chargers, the charging pad is angled and not flat like in other vehicles. While it works fine, in the event of sudden braking your precious smartphone may be sent flying.
If that's not enough, you also get 4 USB charging ports to satisfy all of your charging needs.
You get a power tailgate and copious amounts of boot space too, with 620L available without having to fold the seats down. The hybrid also gets an advantage here, being able to fold the rear seats down 40:20:40, as opposed to the standard 60:40 configuration found on the petrol variants.
Not sure why there isn't a universal configuration between all variants, but both rows of seating in the Tucson do come with heating functionality, with the front benefiting even more with added ventilation options.
And it gets you to your destination, fast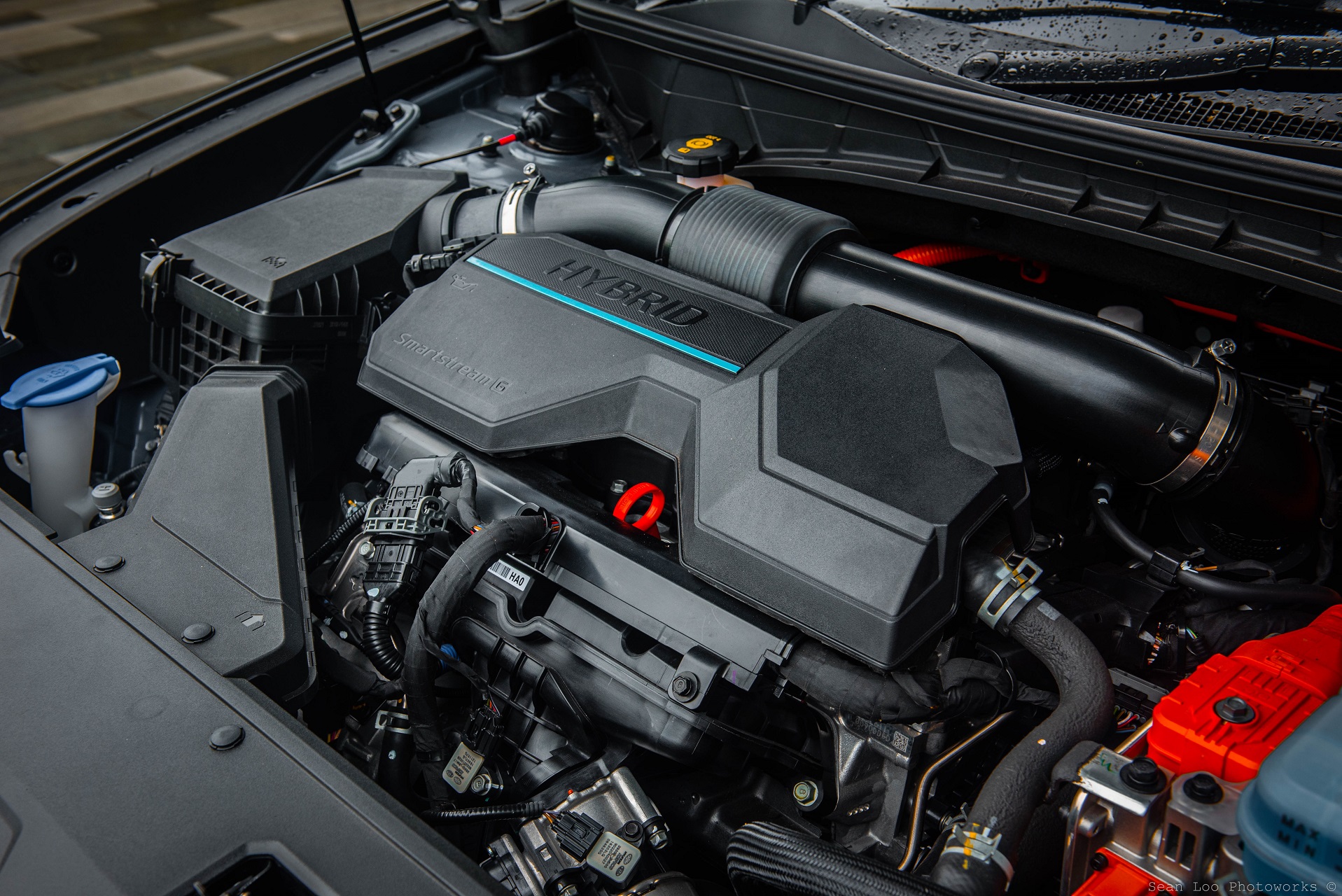 Even though this is a lumbering SUV, the Tucson is nimble on the road thanks to its petrol-hybrid powertrain, which it shares with the Santa Fe.
You get respectable figures in this car, with 230bhp and 265Nm of torque to boot. Thanks to its electric motor, acceleration response time is near-instant, and the Tucson makes short work of other vehicles on the road.
While it isn't ludicrously fast, the instantaneous torque is more than sufficient to get you quickly off the line.
The turbocharged petrol engine roars to life intermittently while driving, shutting off to enable the Tucson to run in EV mode, improving fuel savings. The transition is pretty smooth, and you do not notice the change as the car hot-swaps while on the move.
However, should you find yourself in the unlikely situation where you floor the accelerator hard in EV mode, the Tucson does have a substantial delay as it struggles to decide whether to fire up the petrol engine.
During this time, the car is stuck in a sort of limbo, and because the engine is fired up quickly, it does get a bit rough building up enough revs while the car selects an appropriate gear for accelerating.
Speaking of gears, the comprehensive powertrain is mated to a 6-speed automatic transmission, which is responsive and rolls through gears smoothly while cruising. It's a shame that the hybrid variant does not receive the 7-speed DCT gearbox that is offered in the Tucson's petrol siblings.
You do get Eco and Sport modes, and the Sport does offer a bit more grunt by keeping the petrol engine running and on standby should you require more power.
However, throughout testing the vehicle's default Eco setting had more than sufficient power for most uses, and keeping it in Eco mode benefits range with lower fuel consumption.
For comfort, the Tucson features an electronically controlled suspension which optimises each individual wheel while driving and enables the car to ride out undulations in the road with relative ease.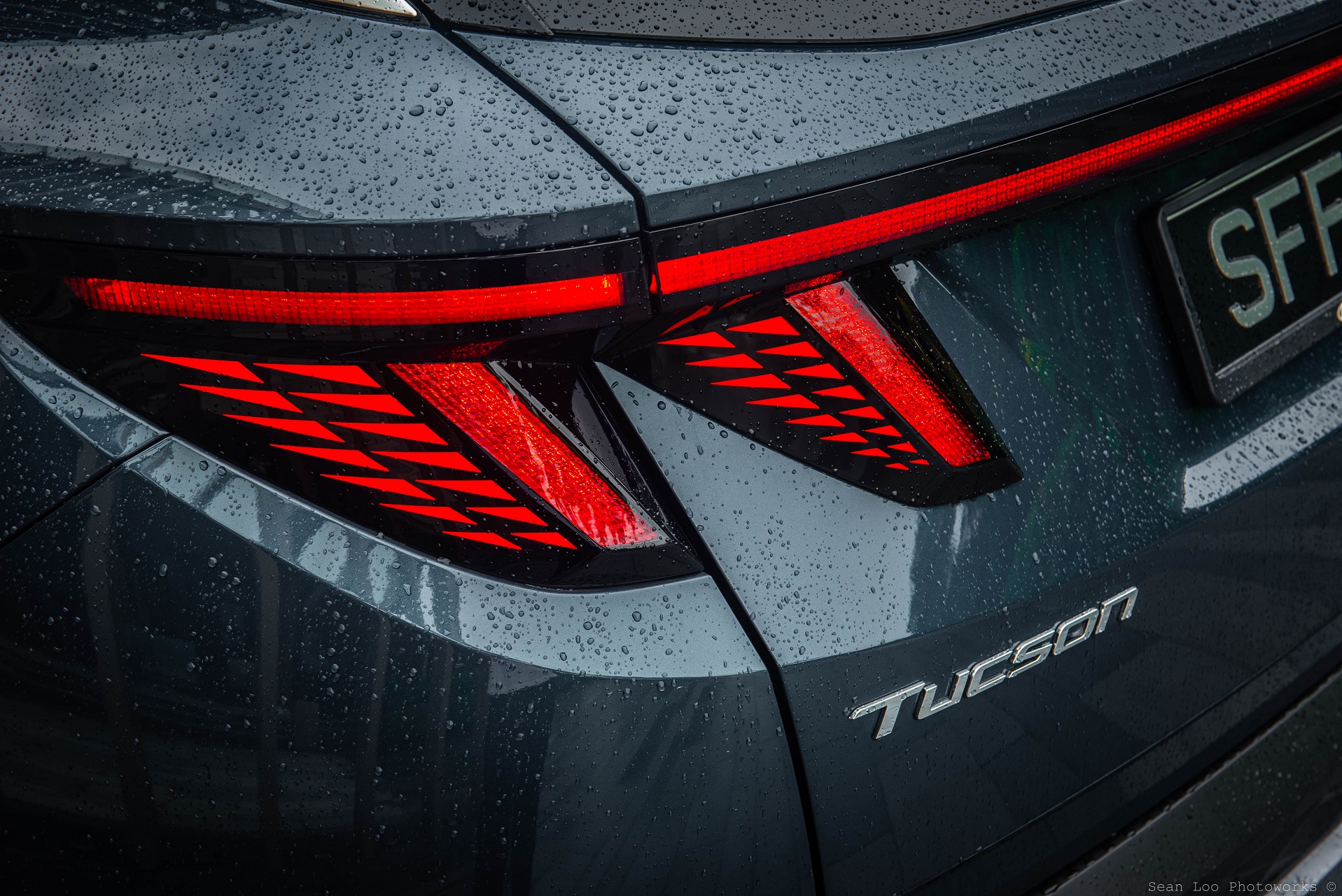 While driving, the Tucson has a wide range of safety features dubbed Hyundai SmartSense to make you feel more protected on the road. These features are great but can feel a little overprotective at times.
During testing, there were numerous scenarios where the safety features kicked in prematurely even though there was no immediate danger, and the emergency brakes do come as a surprise to bewildered passengers.
Parking is easy enough thanks to its abundance of sensors and safety warnings, however, in a car that delivers a premium experience on a whole, the rear camera leaves more to be desired.
Plus, it looks good too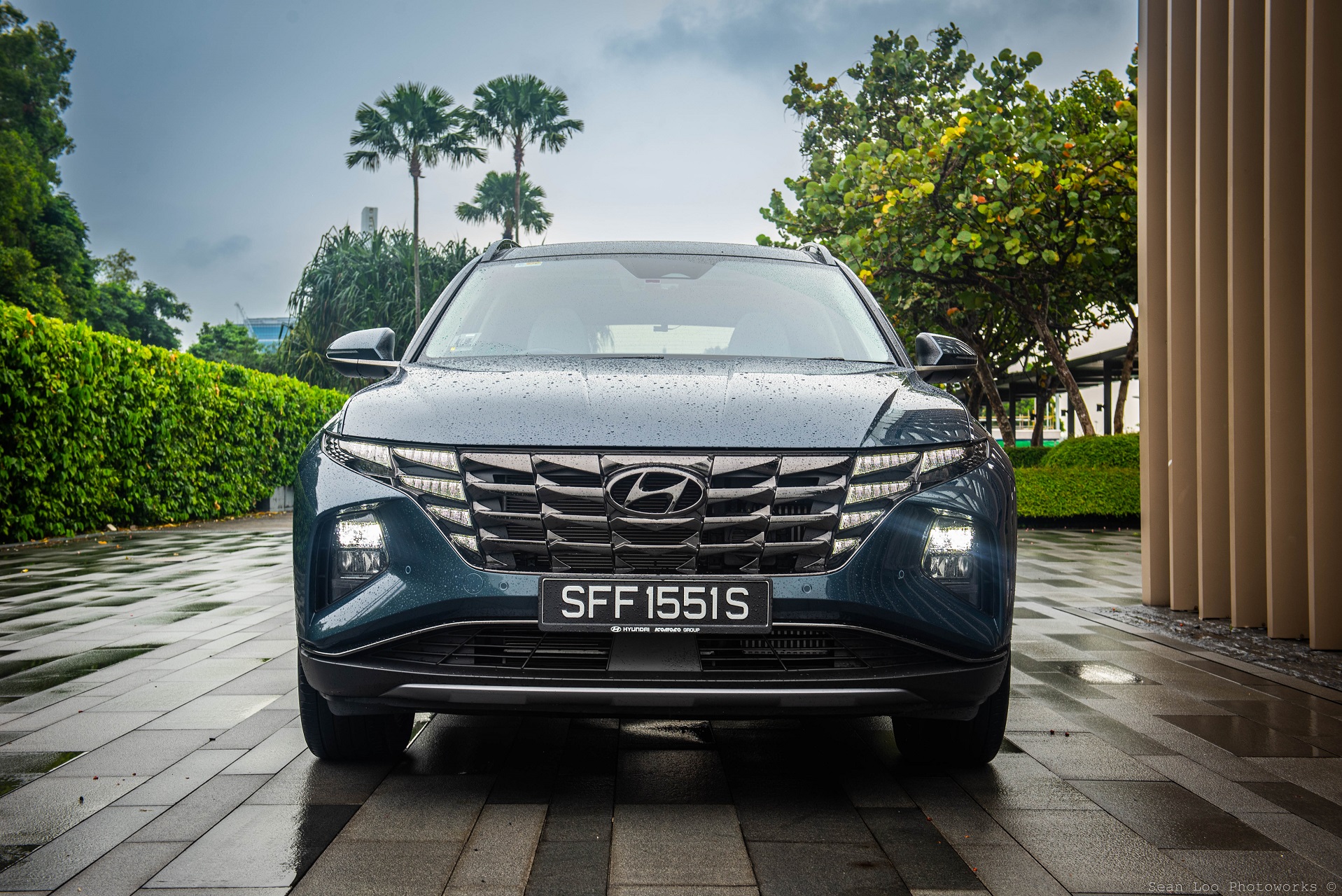 Everywhere you look, sharp lines accentuate the Tucson's chiselled looks and guide your eyes towards different parts of the vehicle. The new design screams futuristic, and it exuberates the marque's Sensuous Sportiness design language which started with the Avante.
When parked, the daytime running lights are concealed, blending in seamlessly with the large 3D parametric-styled grille.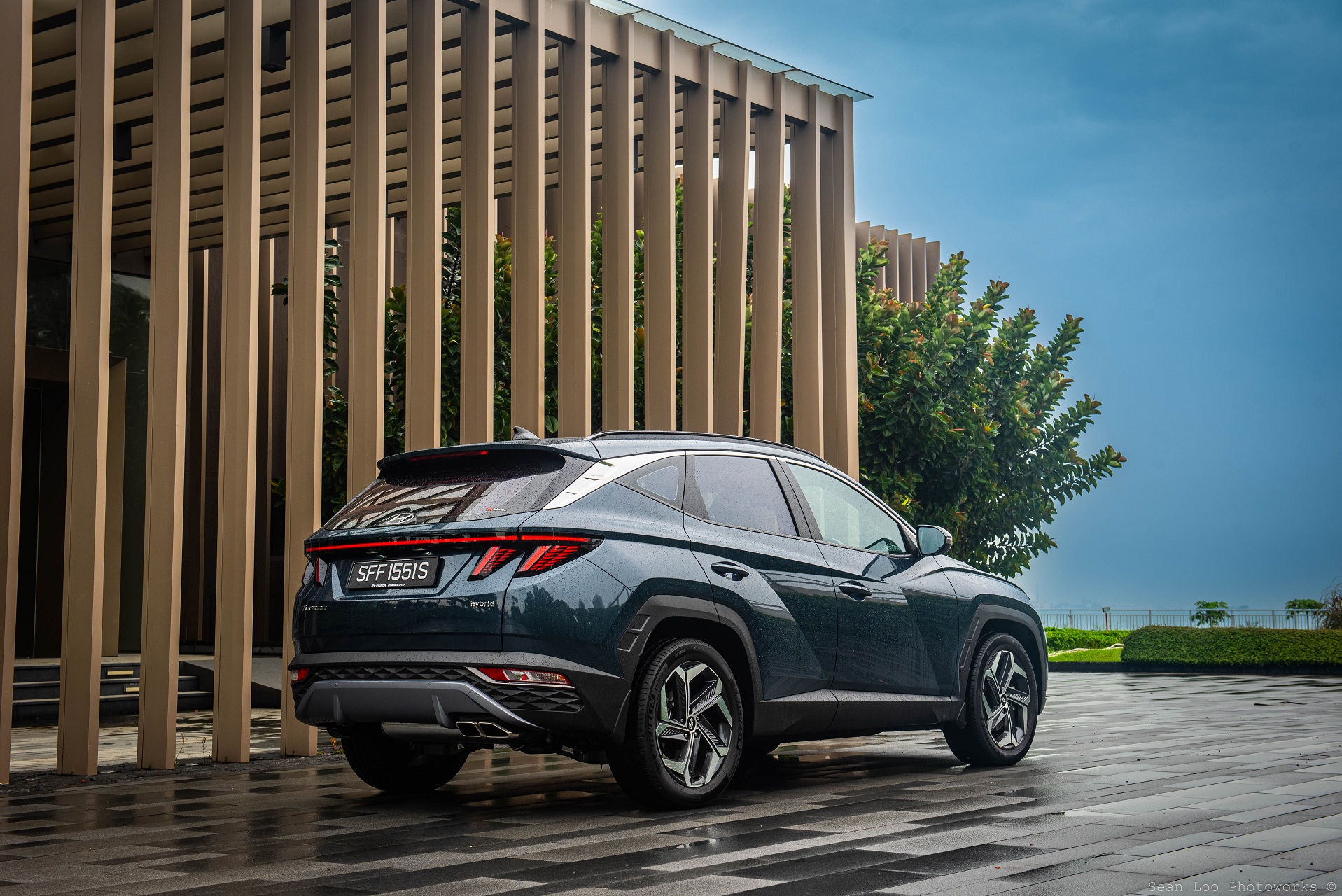 The rears also follow this trend, with jewel-like combination lamps that integrate with a lightbar that extend throughout the rear of the Tucson.
The rear wiper is hidden under the tailgate spoiler, a subtle but useful change that prevents water stains from accumulating on the wiper blade.
With its radical and unique new looks, the Tucson does not look like anything else on the road today. That's a good thing though, as it's able to set itself apart from the competition.
While testing, we received lots of stares from other motorists or pedestrians alike, and their approving nods are always an indication that the Tucson fits the bill as a handsome chap.
So then, does it stack up to the competition?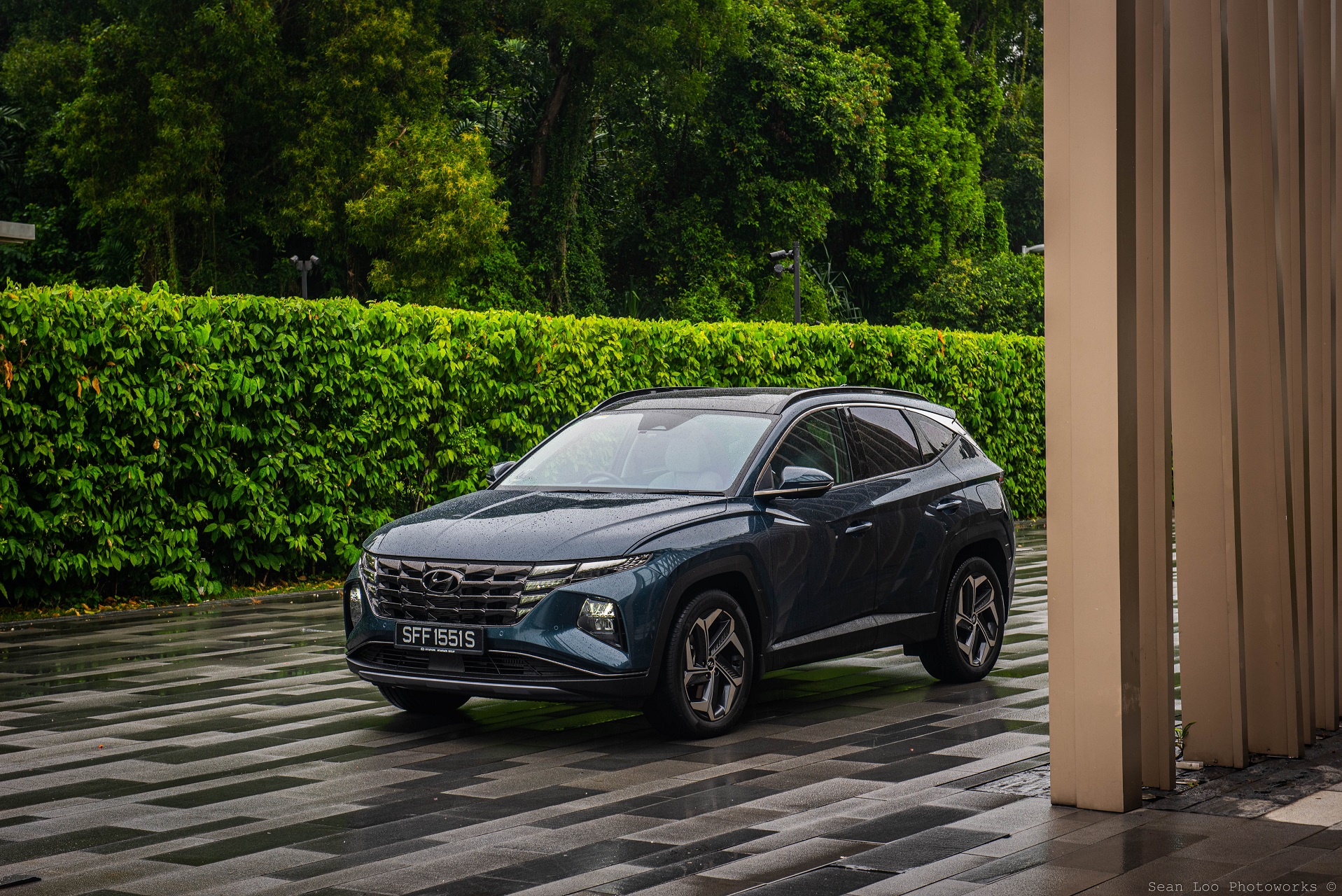 Overall, the Tucson offers a compelling package that gets you more bang for your buck, with premium features aplenty that typically come as optional extras on more expensive brands.
Plus, it achieves all of that while still being an attractive family vehicle that can lug your kids to school in the morning, and carry purchases from IKEA at night.
However, at S$187,999 (at the time of this article) for the hybrid variant, it does cost a pretty penny. With cars seen as luxury items in Singapore, most people would undoubtedly opt for similarly priced cars under more "atas" brands, instead of even offering to give the Tucson a try.
This is a real shame, as we feel that the Tucson is a car that far exceeds expectations.
If Hyundai could drop the price a little and make it more competitive, then they will have a real winner on their hands.
Check out the Tuscon Hybrid for yourself at Hyundai Singapore.
Specs
Price
S$187,999 (inclusive of COE)
VES Banding: A2
Performance
Engine: 1.6-litre Turbo-GDi Petrol-Hybrid
Power: 230 bhp @ 5,500 rpm
Torque: 265 Nm from 1,500 - 4,500 rpm
Fuel Consumption: 20.8 km/l
0-100km/h: 8 Seconds
Top Speed: 193 km/h
Drivetrain: 6-Speed Auto; Front-Wheel Drive
Brakes (Front): Ventilated Disc
Brakes (Rear): Solid Disc
Measurements
Wheelbase: 2,680 mm
Dimensions (LxWxH): 4,500 mm x 1,865 mm x 1,650 mm
Fuel Tank Capacity: 54 litres
Boot Capacity: 620 litres
Features
Bluetooth with Voice Recognition
Front & Rear Heated Seats
Front Ventilated Seats
Hands-free Power Tailgate System
Heated Steering Wheel
Panoramic Sunroof
Smart Cruise Control with Stop & Go
Wireless Apple CarPlay & Android Auto
Wireless Smartphone Charger
10.25-inch Supervision Cluster
8-inch LCD Infotainment Screen
6 Airbags
Prices are accurate at the time of writing.
Find out more about the TUCSON