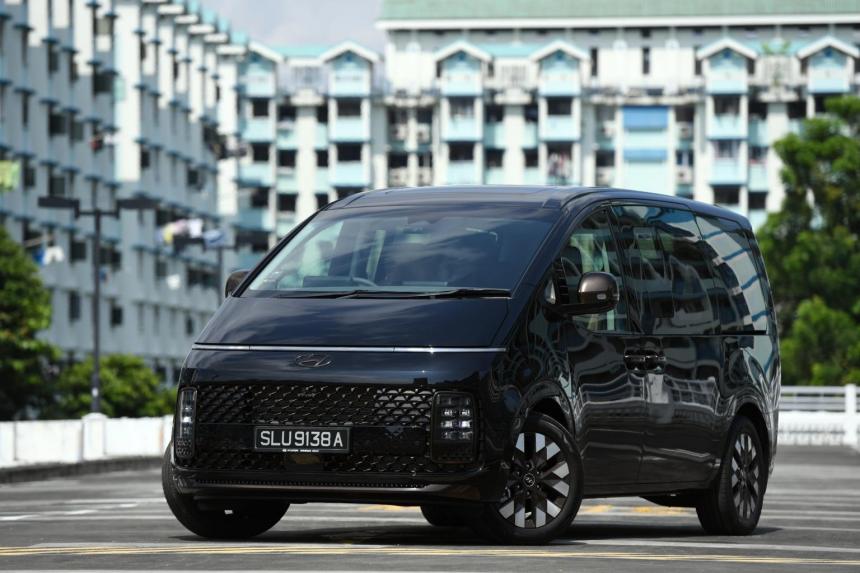 SINGAPORE - Cars have grown so much bigger in the last few decades, with several executive models approaching 5m in length - up from 4.7m in the 1980s.
But cars have not necessarily become much roomier.
The pursuit of sleek aerodynamic shapes in saloons and the unending infatuation with sport utility vehicles - which are surprisingly not all that space-efficient - have contributed to bigger footprints, but not much bigger footwells.
Hence for those who value space above all else, there is nothing like an unapologetically boxy multi-purpose vehicle (MPV). And among MPVs, there is nothing like the Hyundai Staria.
The Staria is a mountain of a car, measuring 5.2m long, nearly 2m wide and just under 2m tall.
Inside, the Staria has so much space that you do not even have to open its massive tailgate (hands-free via proximity sensors) to access its boot. Just open either sliding door (at the touch of a button) and chuck your week's worth of groceries, your bicycle or Ikea furniture packs in between the seats or along the aisle.
The second row is occupied by two recliners akin to what you see in barber shops or an Osim showroom. The third row, which is usually reserved for small children in many other MPVs, has three seats big enough for adults, with ample stretching room for their legs.
Rear occupants get their own climate control. In addition, the four seats in the first two rows are ventilated. All seats slide on rails, and if the second and third rows are moved 300mm forward (the maximum), it frees up 431 litres of stowage in the boot which, at its smallest, has a 117-litre capacity.
Should you need more cargo-carrying space, seat cushions can be folded upwards. There are also storage compartments throughout the MPV, including a large one between the front seats, a sizeable glovebox, two shallow bays atop the dashboard and two levels of storage on the front doors.
Indeed, for the average family, the Staria offers more space than necessary.
Now, some MPVs of its stature are van-like in their finishing, ride and handling and level of refinement. Not the Staria, which has MacPherson strut front suspension and a multi-link rear to give it car-like progress.
Its 3.5-litre V6 engine, paired with a smooth eight-speed autobox, is sufficient for the 2.2-tonne vehicle which, incidentally, is just a tad heavier than a smaller car like the BMW X5. It reaches 100kmh in 8.9 seconds, which is brisk for a car its size. In fact, you can even elicit wheelspin by flooring the accelerator.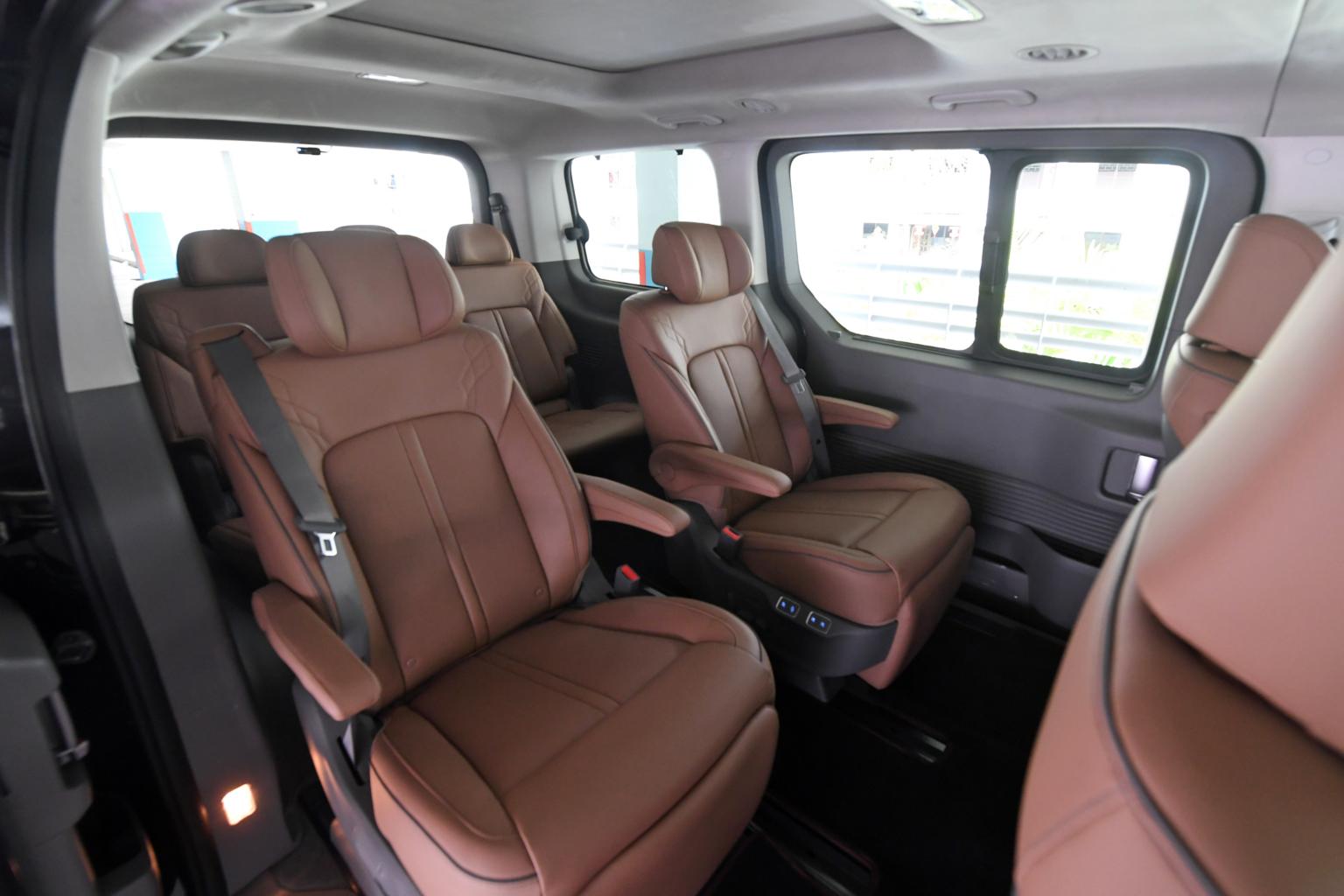 The test-car averages 14.5 litres/100km, which is thirstier than Hyundai's stated 11.1 litres/100km, but not overly so for something of its form and function. Even so, such a car would have benefited from a smaller turbocharged or hybrid powertrain.
At the wheel, the Staria is easier to pilot than expected. It drives like a car, with concise steering and controlled body movements. Parking is made easier by a 360-degree camera.
Only the tightest carpark ramps might pose a problem. And you detect a hint of wind noise when approaching highway speeds. Otherwise, the Staria has limousine-like qualities. As a matter of fact, no normal limo offers as much space. And no limo can compete with the Hyundai's sub-$250,000 pricing.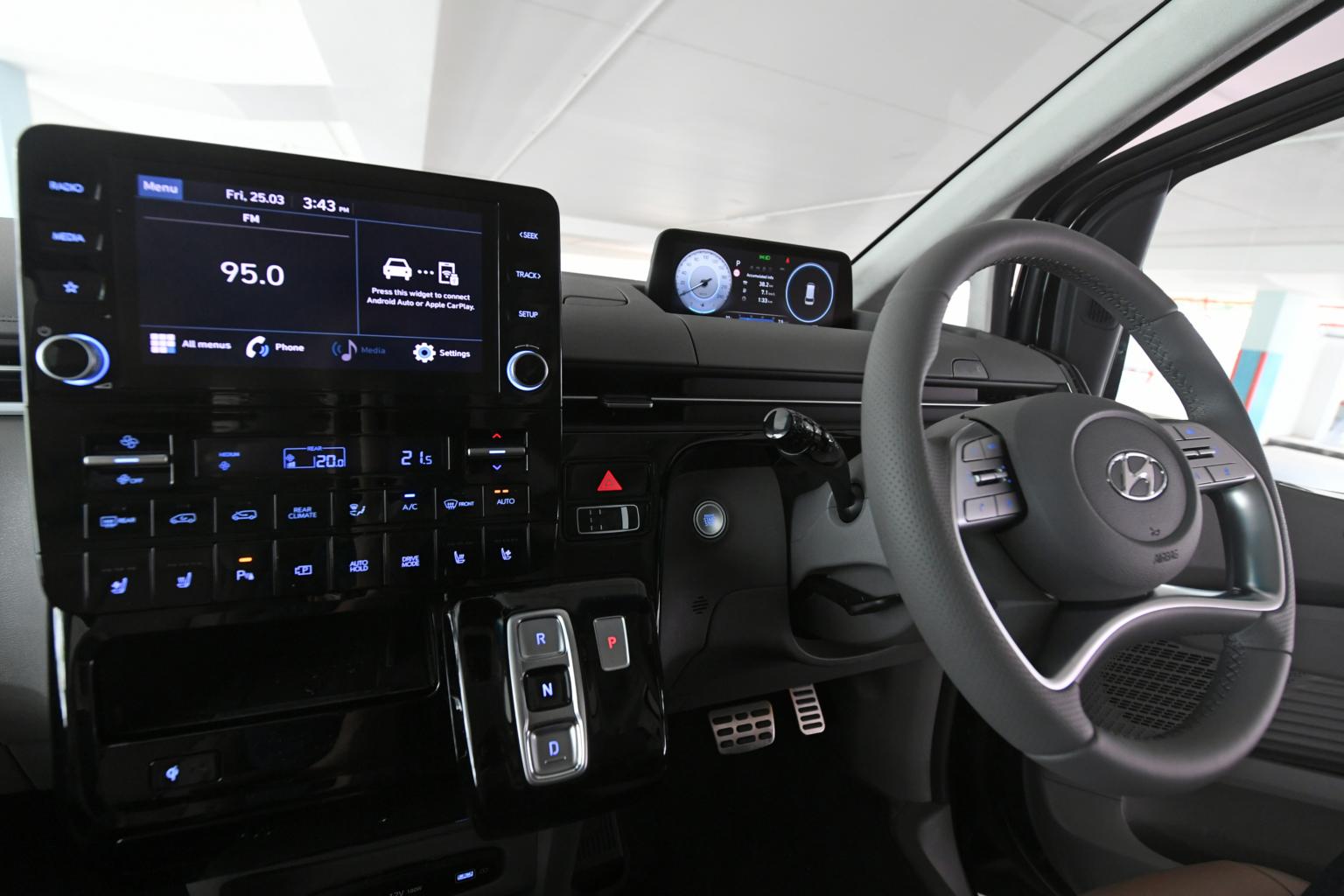 The Staria's cabin is not austere at all, with dual sunroof, suede lining, a 10.25-inch digital instrument cluster, an 8-inch LCD infotainment screen, push-button gear selection, wireless phone-charging cradle, adaptive cruise control, electronic parking brake, individual swivel armrests for the front two rows, a multi-function steering wheel and a selection of ambient lighting. Adding rear-door controls for the driver would have made it more complete.
The Staria's exterior design is cooler than any other MPV's, with a bold monolithic silhouette lit by a fresh, futuristic arrangement of LEDs. If Darth Vader were in town, this would definitely be his choice of commute.
PHOTOS By DESMOND FOO
Find out more about the new STARIA.