I've been doing this for more than a decade now. I've seen people come and go, and I've seen cars parked and left. Once, every car looked, drove and smelt bad. Then time passed me by as I changed and arranged and the cars got technologically superior and stylistically better...
Now, in this day and age, it may be hard to find a shabby car, but finding one that has a distinct personality and character is a challenge.
In this regard, the Hyundai Venue S comes to mind. And in this colour, it's a breath of fresh air.
Drive first, looks later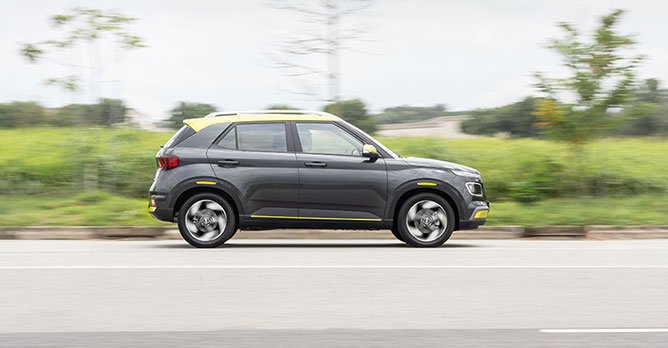 For starters, I could drive the Venue all day. It's not the best and it's not the fastest. In fact, with its 1.6-litre powerplant pushing out 121bhp and 154Nm of twisting force to the front wheels, the Hyundai Venue is neither one bit addictive nor is it anywhere near exciting, but it has enough punch to get up to speed easily and keep up with the pack on the highway.
There's a lot to like about it, more so when it now comes with a suite of standard driving aids that can assist you on a daily basis.
You get blind spot collision warning, lane keeping assist, forward collision avoidance assist and what Hyundai calls leading vehicle departure alert, which gives off a classic SMS-like chime when the vehicle in front starts moving off - perfect for drivers who are like me who are always on their phones at the lights, or have trouble moving off steadily at slip roads.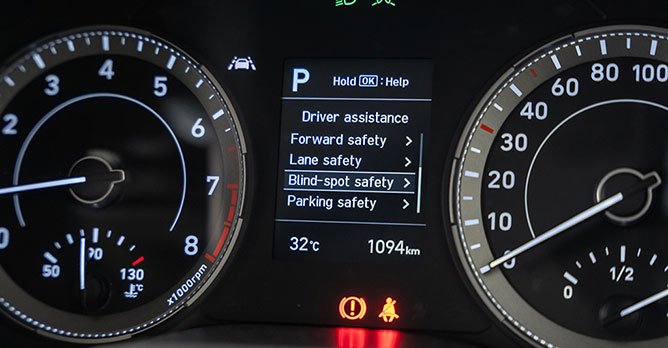 While many may find these nannies a little bothersome, especially the blind spot monitor where the warning sound goes off quite frequently, I reckon it's always better to be safe than to be sorry - especially since the Venue gave me a fair warning before I changed lanes when I was ferrying my daughter from school right after a long day at work.
You were talking about looks?
This brings me to the looks of the car. After a long day at work, it's always nice to walk towards a car that reminds you of your age. I'm still young and I'm not about to retire, and it's always nice to know that a stylish-looking car is waiting for you at the lot after a hard day's night.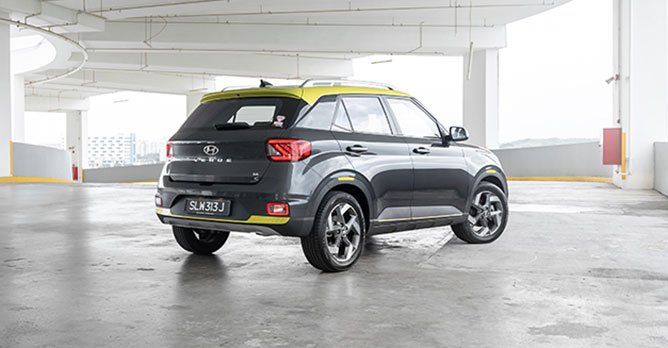 The Venue may not particularly look gorgeous to many, but it'll definitely hold its own when parked next to a MINI in Dempsey, thanks to the striking yellow bits that complement the grey body colour.
Also striking is the newly designed cascading grille on our test car, which gives the frontal fascia a more modernised presence and three-dimensional appearance on the road.
It's the inside that matters
A similar form can be found inside. For instance, only with this particular colour on our test car do you get a matching cabin. Bits of similar striking yellow stitching on the steering wheel, as well as trims on the fabric seats, air-con vents and circular knobs, all make up to enhance the ambience of the compact crossover.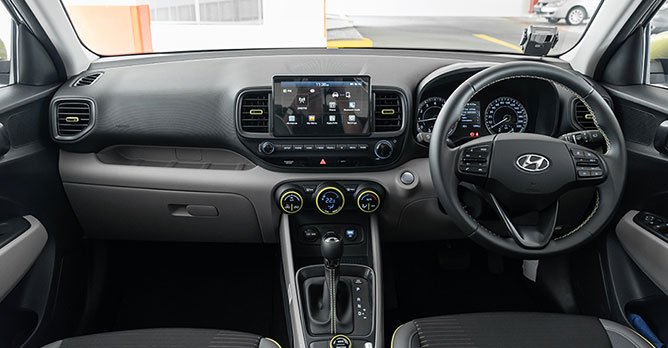 It's mostly a simple and uninterrupted flow of design in here, with an 8.0-inch infotainment screen taking centre stage. You won't be receiving an abundance of luxurious materials with the Venue, but it's genuinely hard to ignore that everything feels well-assembled, with a nice mix of textures to give it a sense of occasion every time your passengers and you enter the car.
And when they do, there's a good amount of head and legroom for two at the back. Three would be a bit of a squeeze from shoulder to shoulder, but not to a point where comfort is severely compromised.
Boot space is decent for the Venue, too. At 355 litres, it's bigger than the Kia Stonic, the dated Nissan Juke as well as the Toyota C-HR.
A different normal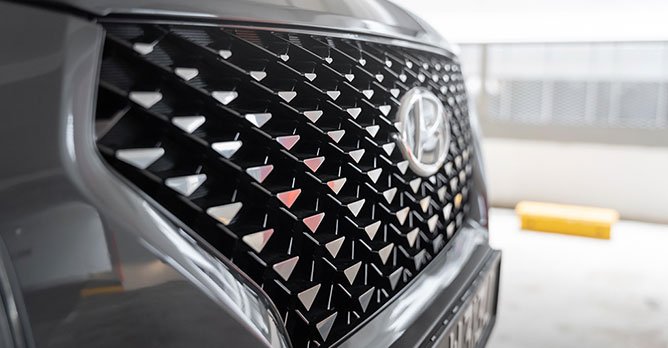 With the Venue, Hyundai is hoping to attract first-time buyers, fashionable couples and young families. At a price of slightly over $100k (as of 24 September 2020) more buyers will lean towards the base model, which is $6k lower.
But considering how finding a shabby car that has a distinct personality and character is a challenge, we will have to remind ourselves that the higher specced Venue S is a breath of fresh air, and that by itself is worth more than $6k.