As part of Singapore Green Plan 2030 to get the nation together in a transition towards a more sustainable future, all new cars registered from 2030 and public transport will have to be "cleaner-energy" models. We showcase customers we met who are already "walking the green talk".
Fuel economy was the absolute key when Mr Michael Liu and his son Mr Louis Liu considered shopping for a new car, naturally their decision swayed towards ECO cars. They wanted to have quality of life without excessive spending, and the KONA Hybrid exceeded beyond their expectation.
Mr Liu shares further that junior Mr Louis Liu and himself actually participated in Hyundai Electric Motion, a contactless test drive experience of selected Hyundai vehicle. They found it innovative and useful as they were able to drive the car on their usual home-bound route instead of a pre-set test drive route, hence giving them more in-depth experience of the car.
Why did you choose the KONA hybrid?
Generally, we prefer SUV more than saloon car. It is easier to get in and out as SUV are generally higher in height.
The fact that the KONA Hybrid is packed with a full suite of advanced safety & driving assistance features was one of the first things that caught our attention during test drive.In particular we like the Smart Cruise Control as it follows the speed of the car in front. We also find the Blind-Spot Collision-Avoidance Assist helpful and make driving much less stressful especially when the road is busy. Komoco Motors' decision to pack the KONA Hybrid with all the safety features is highly commendable; as it helps to provide useful feedback for drivers and gives us a peace of mind.
It is also very convenient to charge as you go with the Wireless Android Auto and Apple Carplay.
One of our favourite is the KONA Hybrid's sports mode!
Tell us more about your thought process in purchasing a KONA hybrid.
We always drove petrol cars, and found the fuel consumption to be relatively high. Hence, for our next car, we took it to heart to consider switching to Hybrid or Electric vehicle. We initially wanted an EV but the lack of charging facilities at our current residence deterred us. Hence, a hybrid like the KONA Hybrid is a more practical choice for us. It does reduce our carbon emissions, which plays a big factor in our purchase too.
How has Hyundai changed over the years?
There are huge improvements to design and performance of Hyundai cars.
What would you say to someone who's also interested in this car?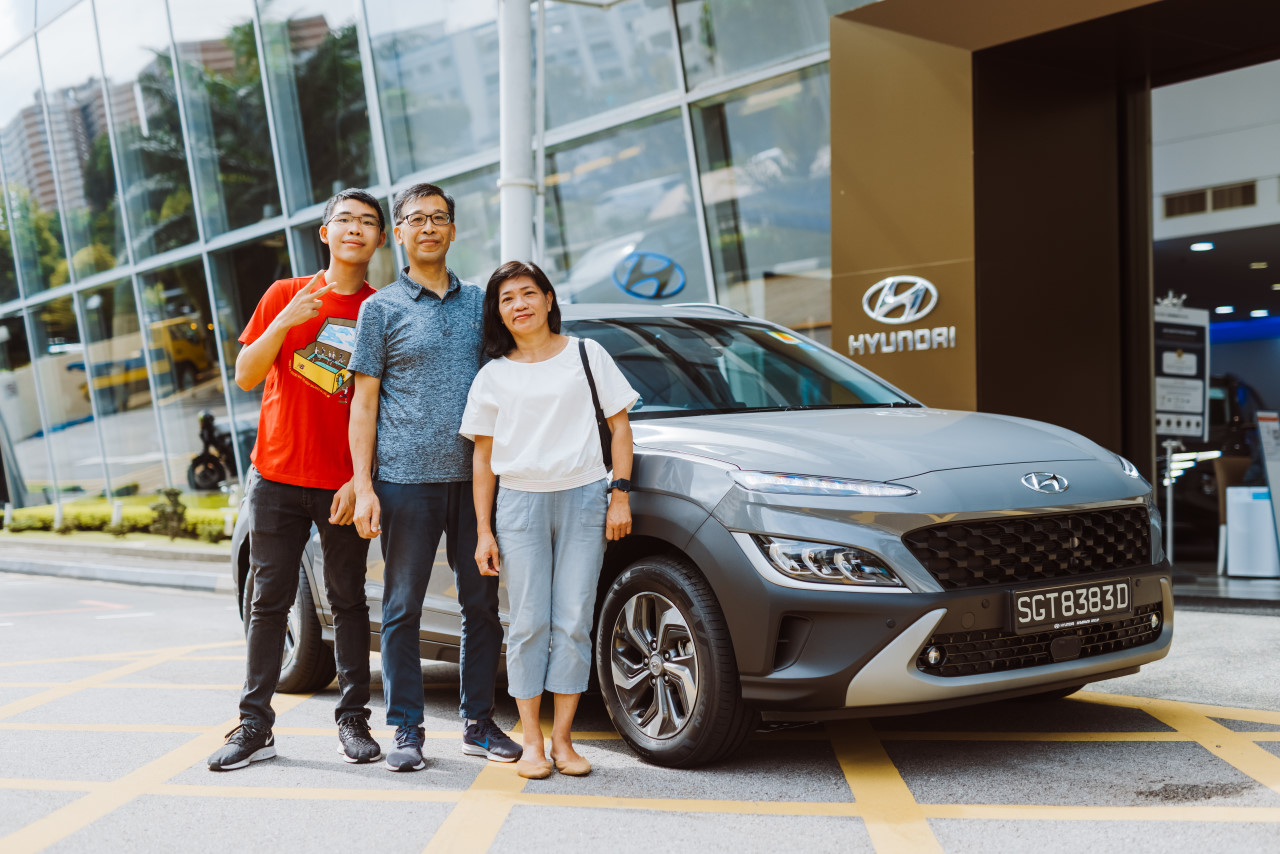 Find out more about the new KONA Hybrid.