When it comes to compact-sized EVs or hybrids, there is no denying that South Korean brand, Hyundai would be in many conversations today. After all, Hyundai is one of the market leaders in electrification and their cars have also won themselves a fair share of fans.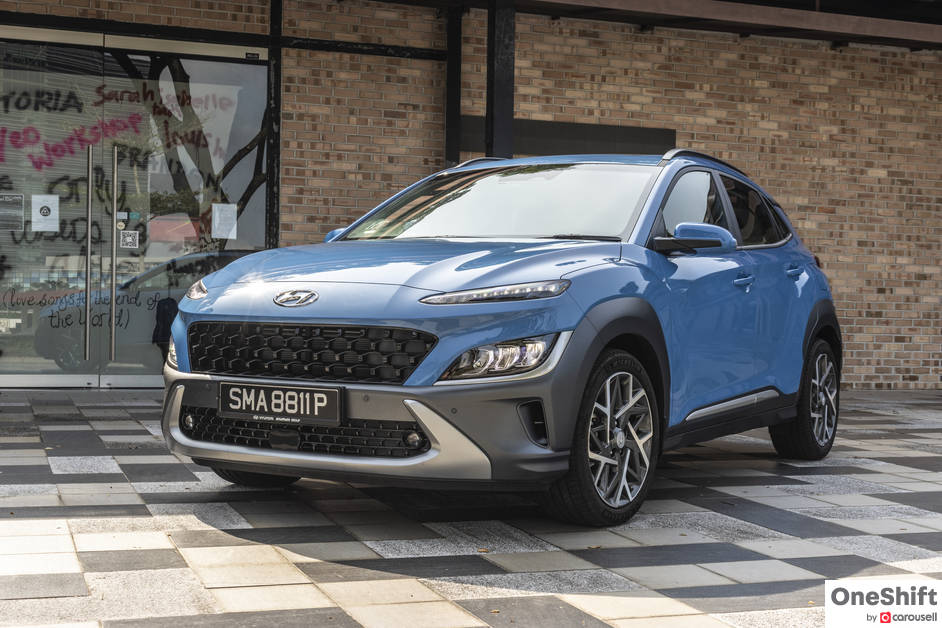 The Kona, which was fielded here originally had two variants, a 1.6 litre turbocharged petrol with AWD and was heaps of fun to drive, and a more down-to-earth 1.0 3-cylinder, which satisfied my left hand, subsequently hybrid and EV variants joined this range.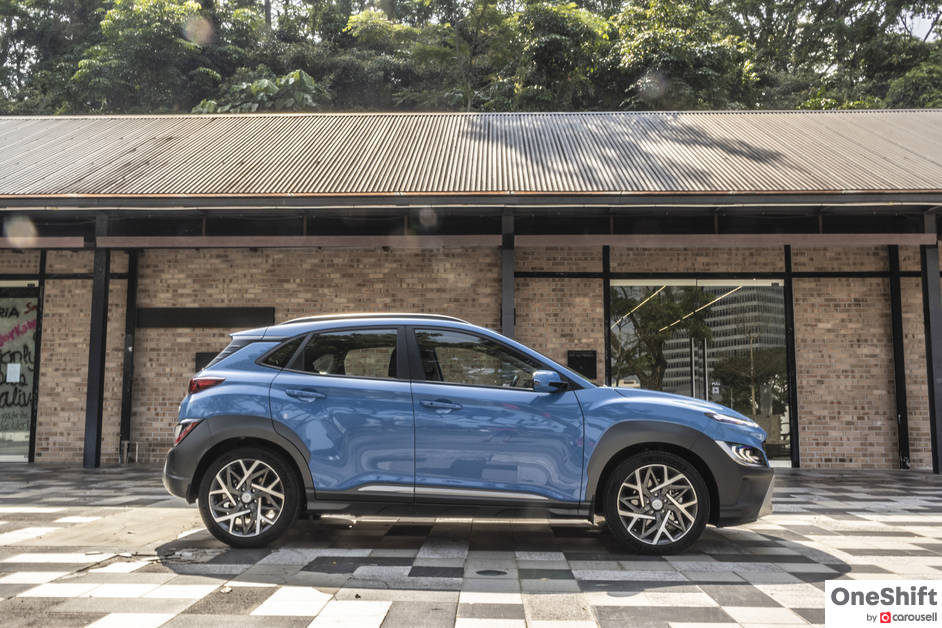 The Kona Hybrid, gets a(nother) midlife nip and tuck, now sports a larger grille which almost hints of Porsche Macan. The redesign has overall tamed that busy front end, while the rest of the car remains largely the same. Hyundai has also retained the 17" rims, first seen on the pre-facelift car. With the restyling, the Kona has increased in length by 4cm, mostly due to the reworked front-end. There are also a few new colours to choose from, Smurfy Surfy Blue, Dive in Jeju, and Cyber Grey.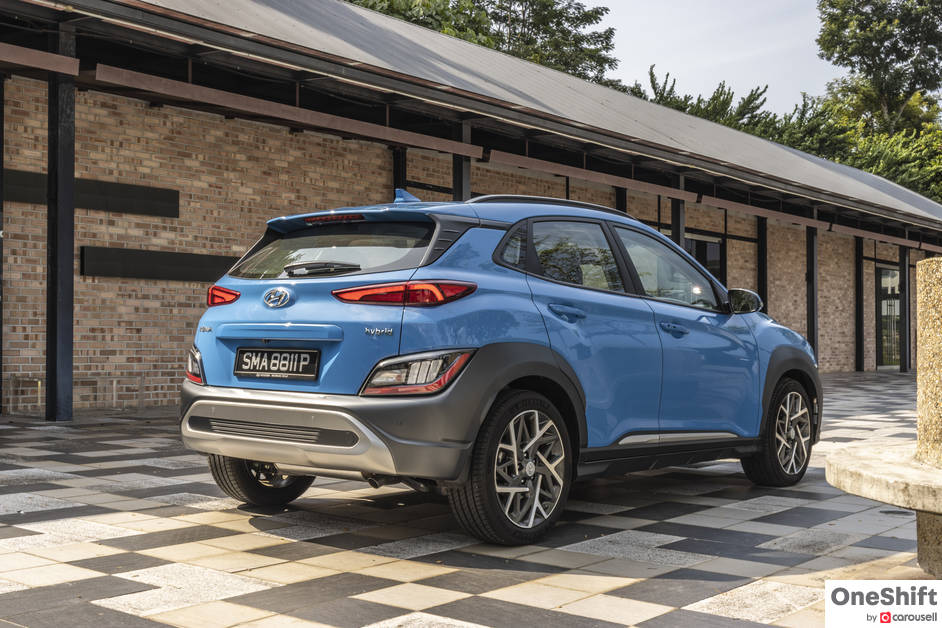 Inside
The interior has also been tweaked a little. The infotainment interface has been increased from 7" to 8", and the buttons which used to flank it, are now located below the screen. Both Apple and Android mobile devices are supported, and there is also a wireless phone charger to keep your device juiced up.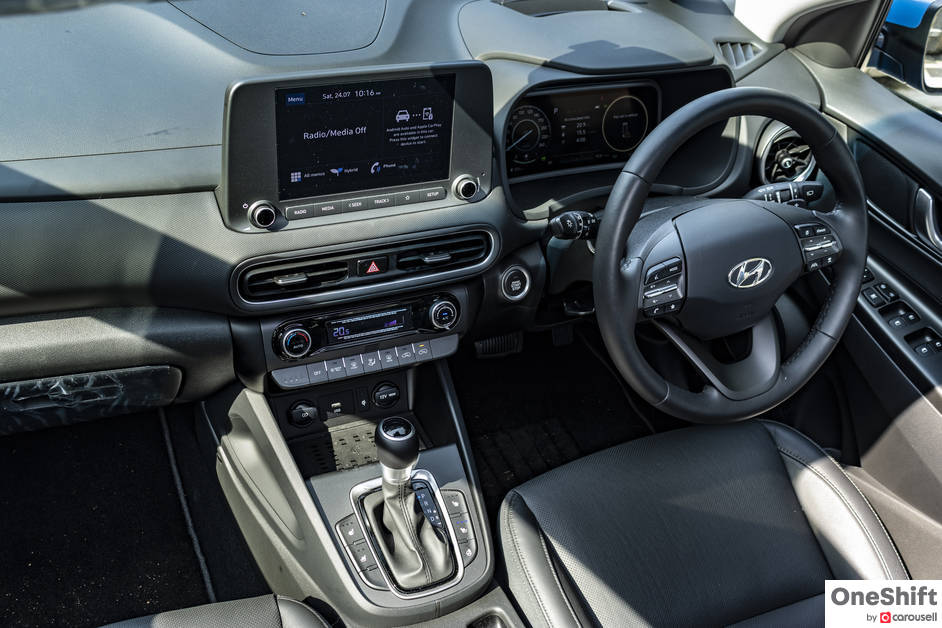 The cockpit now also utilises a 10.25" instrument cluster which is well laid out. One of the gripes I do have, is in how poorly moulded the surrounding frame is, as it is very out of shape.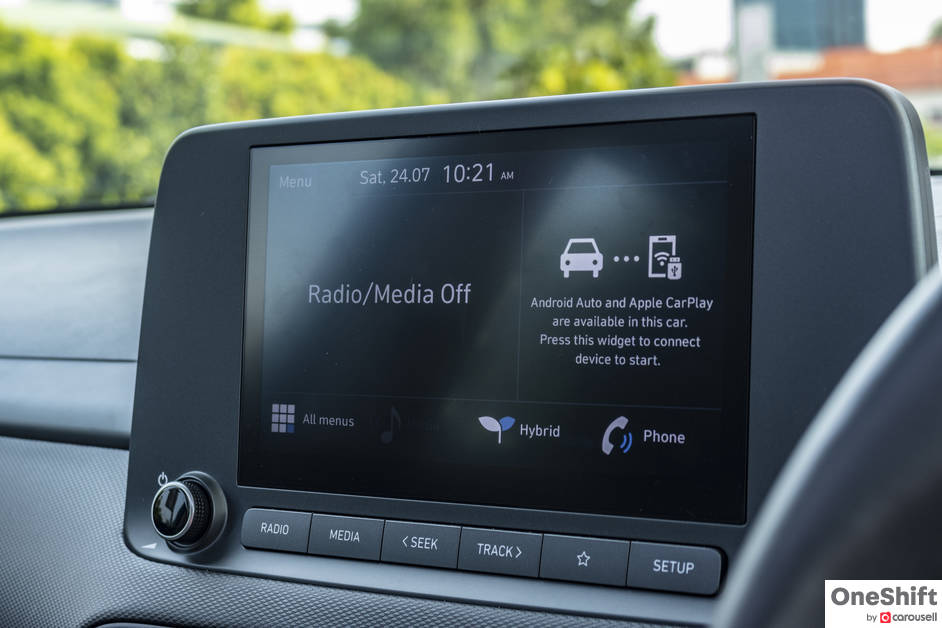 There are other little touches too, like the flattening of the piano-style air-conditioning buttons, and the subtle restyling of the central air-conditioning vents and the hazard light button. The steering wheel also loses the glossy bottom spoke, in favour of a frosted one which does not attract fingerprints. The side air-conditioning vents have also been restyled to better match the rest of the interior.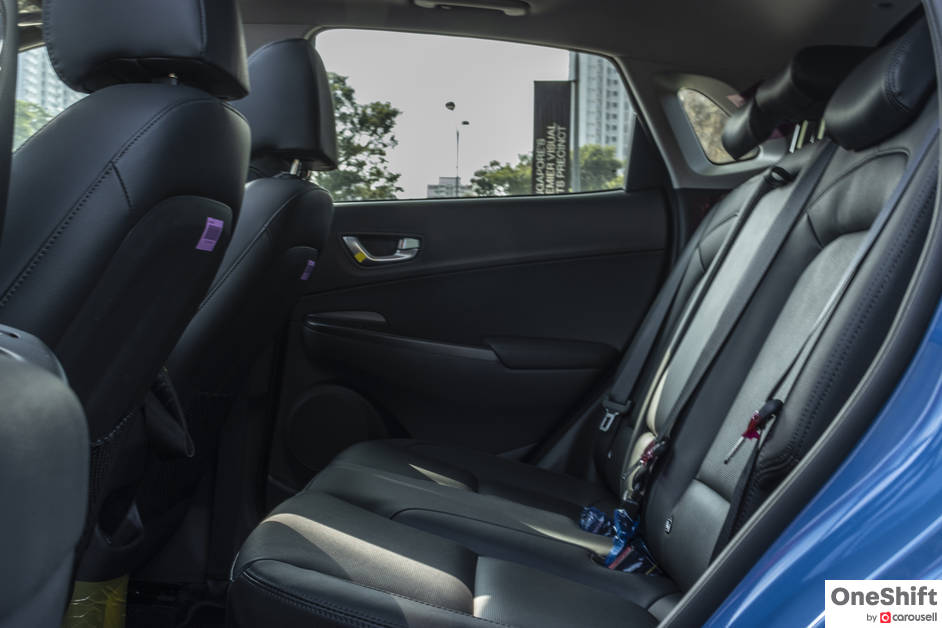 Overall, the cabin provides ample space for up to five adults, and if you are to purchase the range-topping model, like this one we tested, you will also snag yourself ventilated front seats, a sunroof, and a Head-up Display, though this one projects onto an adjustable screen, and not onto the windshield.
Cargo room at 361 litres is practical, and the 40:60 folding rear seats when folded, allows you to pack in up 1,143 litres of cargo.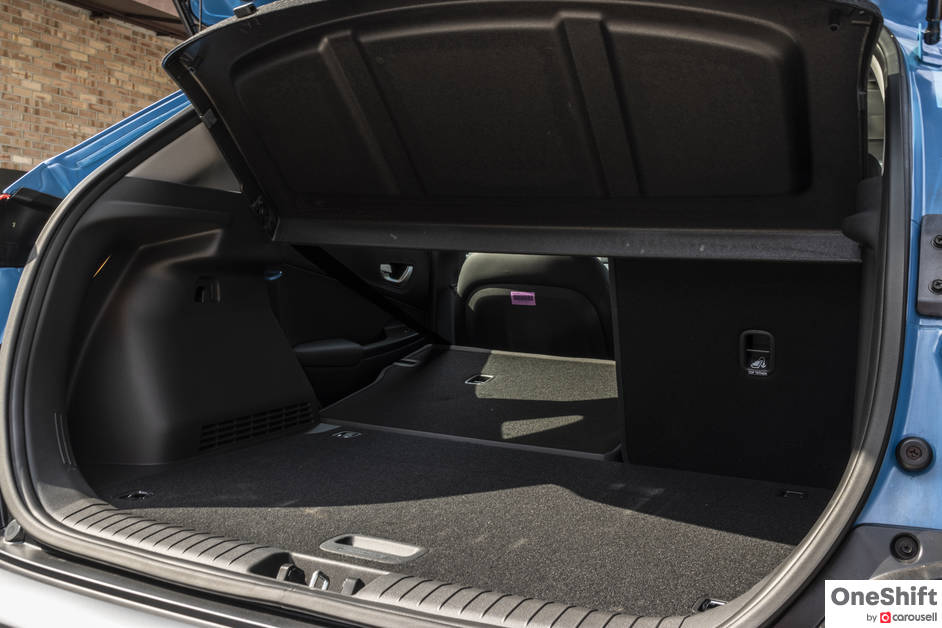 The Drive
The Kona Hybrid retains its 1.6 litre Atkinson cycle aspirated engine, boosted by a 43.5hp electric motor, with a system delivery of 130bhp and 265Nm. Drive is provided to the front wheels via a 6-speed dual-clutch transmission which swaps cogs smoothly.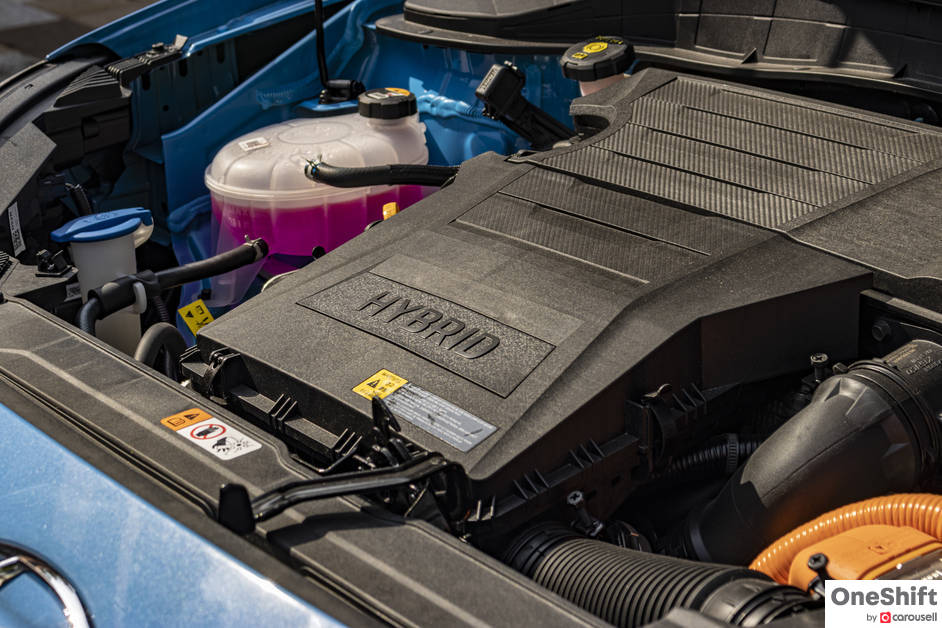 What I find pleasing about the hybrid setup, is that the Kona does well in both start-stop and highway driving situations, where when needed, the electric motor kicks in to reduce the effort the engine needs to start off, or for added grunt under hard acceleration.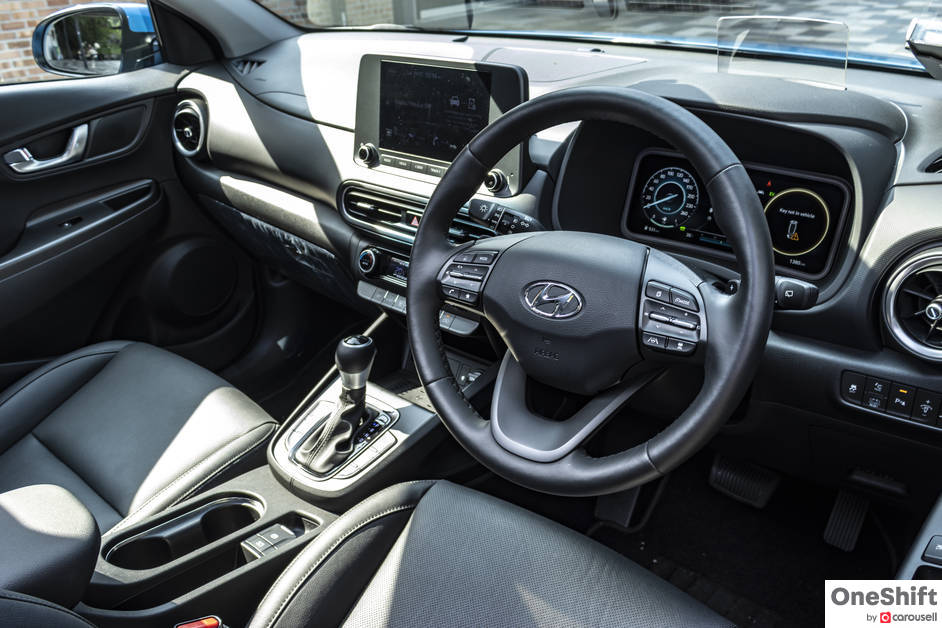 Most drivers will not be bothered with the Kona's leisurely 11.3 second century sprint timing, as they would be more keen on how efficient it is. On that note while Hyundai claims 25.6km/l, I was nailing 22.8km/l (which is quite excellent still) given that I was doing some heavy footing and travelling mostly uphill, mostly of Kent Ridge Park variety; this is where the car does struggle to give sufficient pace.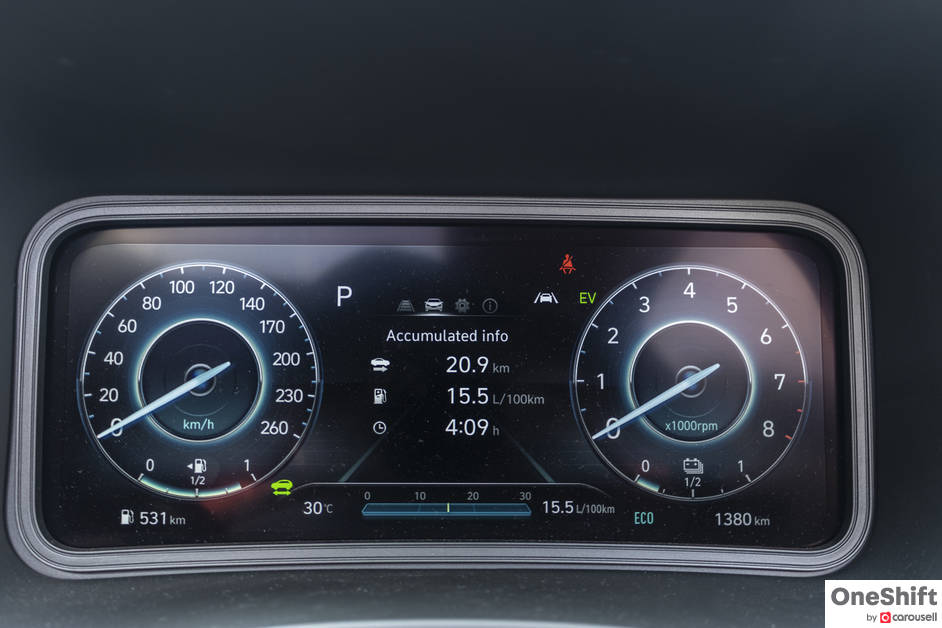 Hilly-hillclimbs aside, the Kona Hybrid delivers a smooth and enjoyable drive, with a suspension which is not overly firm, meaning that you can spend lots of time in the car without feeling fatigued.. but do not expect a sporty drive, even though the Kona Hybrid does look the part.
Perhaps one of the biggest draws is the list of standard active safety features, termed collectively as Hyundai SmartSense, that includes active cruise control, with the stop and go function included, which is quite ideal for Singapore's traffic situation; and a favourite of mine, rear cross traffic collision-avoidance warning, that warns you of cars passing from behind, as you reverse out of a lot.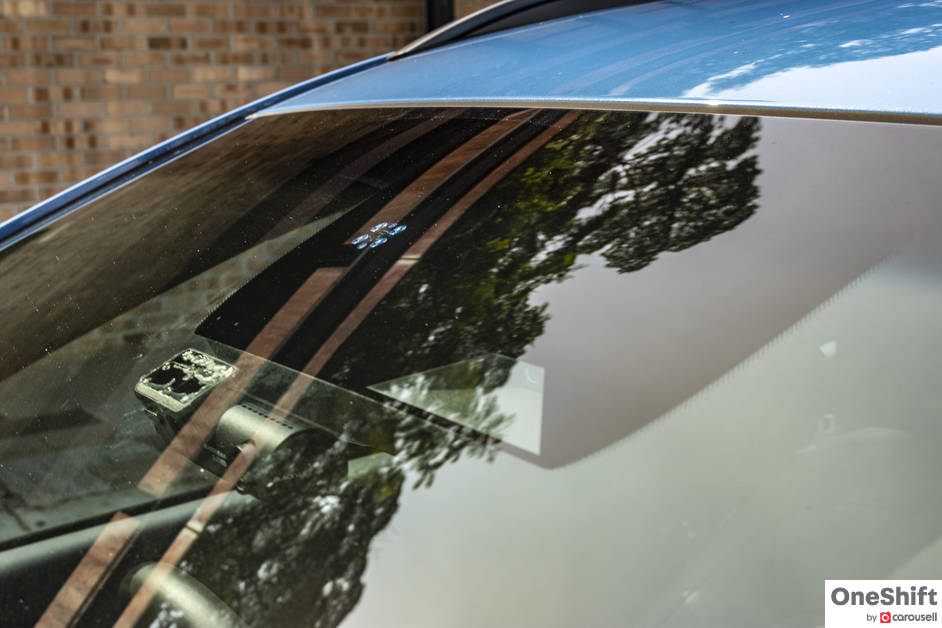 Our Thoughts
The Kona Hybrid is an attractive offering, but with the emergence of more hybrid and even mild-hybrid offerings, and with advanced fuel-sipping engine tech available, there is plenty of competition, and for buyers, many body styles and powertrains to choose from.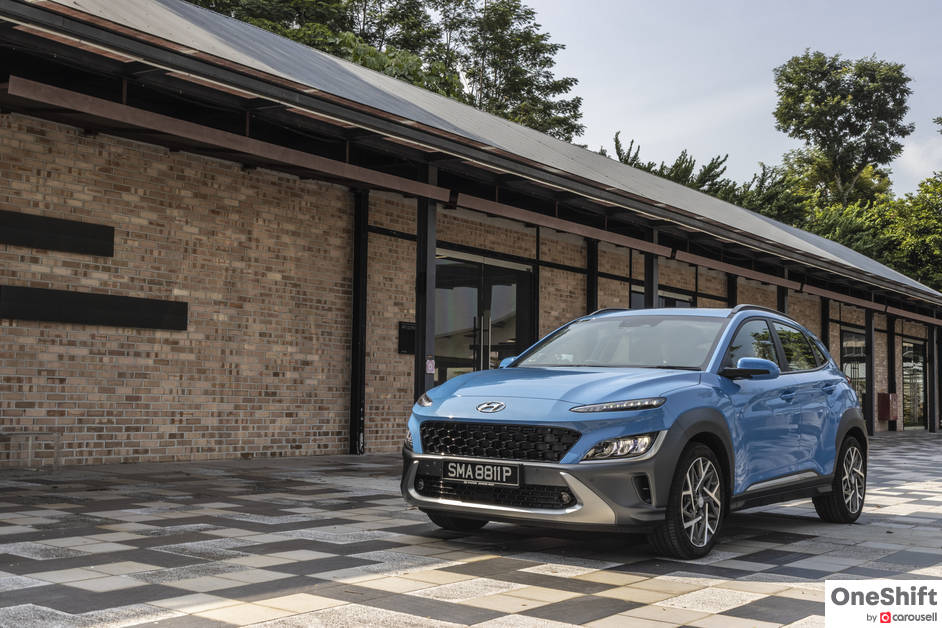 In Summary
We Like
Smarter styling. Great fuel economy. Larger infotainment screen is a welcome improvement. Range-topping model gets an impressive suite of equipment.
We Don't
Build quality could still be better. Engine goes out of puff easily when worked hard.
Verdict
A good attempt from Hyundai, and one which can offer the works if you are willing to pay for the top-of-the-line car. Risk of disappearing in a segment where there is direct and indirect competition.
Find out more about the KONA Hybrid.