If you're trying to find a reliable car that's cheap to run, don't ask your friends or consult your brother-in-law (unless he reads this column religiously). Instead, have a look at what the taxi companies are buying. What cockamamie cab company would run a fleet of thirsty machines prone to breaking down, after all?
That says something about the Hyundai IONIQ Hybrid, which isn't quite ubiquitous as a taxi here yet, but if you stand by the road and wave your hand around, there's a fair chance that a blue or yellow one will pull over for you.
Hyundai trotted it out here almost exactly three years ago, which means the IONIQ Hybrid has gotten a scheduled facelift. It looks reasonably different rather than radically so, but there's no need to go over the exterior with a magnifying glass to find what's new. The front grille now has a mesh pattern instead of horizontal slats, and the lights have a distinctive new motif and almost resemble tusks.
Speaking of tsks, this is the sort of car that might almost win the grudging approval of Greta Thunberg, so you know it isn't much fun.
It still burns petrol, but as the "Hybrid" tag suggests, there's an electric motor to help the engine do its thing. The IONIQ itself doesn't need charging, because its battery is topped up under braking or when the engine has a bit of surplus energy to spare.
As a matter of fact, you simply drive this self-charging hybrid like a normal car, because the juggle between petrol and electric power is done automatically, and skilfully.
Officially, the IONIQ's fuel consumption is rated at 3.8L/100km. You won't get that unless your daily commute involves lots of expressway time, but with a bit of trying, you shouldn't be too far off, either. Whatever you're spending on fuel in your current car, figure on spending half or less in the Hyundai. That implies reducing your carbon output from driving by a similar proportion, of course.
As cheap as the IONIQ is to run, it's no nasty econo-box itself. In fact, for a compact hatch, it's surprisingly well-equipped, with a number of features that most larger, plusher cars lack. The front seats have built-in fans to cool your fanny and there's a system that steers it automatically to keep it within its lane. It comes with blind-spot detectors, as well as active cruise control, which tethers it to the car ahead to set the speed.
The cabin plastics feel a bit cheap in places, but at least the facelift brings a posh new touchscreen interface for the air-con system.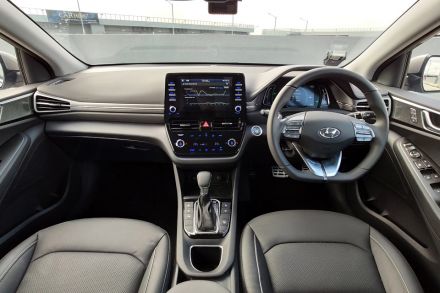 As cheap as this car is to run, it is well-appointed, offering features that some larger, plusher cars lack.
Also new are two paddles that let the driver vary the rate of energy recovery under braking. The idea, presumably nicked from the battery-only IONIQ Electric, allows you to tweak how much you want the Hyundai to reclaim energy when you ease off the gas. It seems like a neat touch, but it's tough to drive the car smoothly when you ask for heavy recuperation, so in the end, you won't bother.
If you want to go totally Thunberg with your motoring, there's the IONIQ Electric to think about. The facelift gave it an upgraded battery with 36 per cent more capacity, so Hyundai reckons you can now drive it for 311km before having to plug it into a charger.
Either way, with a new decade of growing climate awareness upon us, it's safe to say that more and more cars are going to be like the IONIQ, and receive either a helping push or full propulsion from battery power.
You don't have to be a cabbie to drive one, but to anyone concerned about reducing their carbon footprint, the IONIQ is a car to hail.