What it is
Upscale, hybrid, "CalmTech", SmartSense and seven seats.
There are many ways to describe the refreshed Hyundai Santa Fe Hybrid but they would still be too succinct to tell the whole story, one which is astounding for anyone who has followed the Korean carmaker's evolution.
For a start, "upscale" may not be a total surprise as the Hyundai brand has been steadily going upmarket. But the Santa Fe Hybrid is still a plush revelation, with a more flamboyant front end and luxurious cabin.
For this mid-life refresh of the petrol and diesel-powered Santa Fe SUV that appeared a couple of years ago, some of the new stuff include:
• New 1.6-litre turbocharged petrol-electric drivetrain to drive the front wheels
• Updated exterior with bling grille and headlamps with T-shaped LED running lights
• Cabin with new centre console featuring shift buttons, diamond-quilted seats and remoulded door panels
• New space-saving wireless charging vertical slot
• New under-console parcel shelf
• New digital instrument cluster incorporating super cool video for left and right blind spots that come on with the respective turn signals
• Headup Display with speed and safety information
• Rear-seat frills like slide/rake controls on the front passenger electric seat, and rear aircon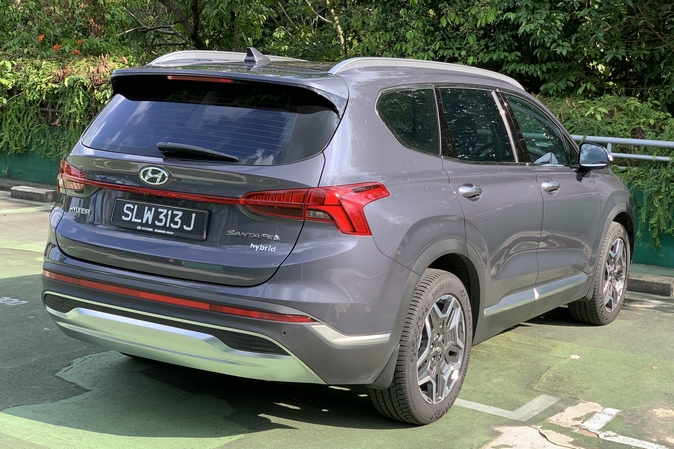 What it has
Together with its more luxuriously appointed interior, the latest Santa Fe Hybrid's petrol-electric powertrain delivers the CalmTech.
This full parallel hybrid has a 1.6-litre turbocharged petrol engine and electric motor combo, hooked up to a six-speed automatic gearbox.
It has a total system output of 230 hp and 265 Nm – from the engine's 180 hp and 59 hp from the motor, which is rigged to a 1.49 kWh lithium-ion battery and which gives that all-important electric boost when the Santa Fe moves off from stationary.
And it is the smoothness of its take-off, enhanced by the plushness of the cabin and insulation from noise and vibration, that is the Calm resulting from the Tech.
Along with the soothing ambience is another tangible benefit. According to Hyundai, the big SUV sips just 5.5 litres per 100 km, or an impressive 18 km/l.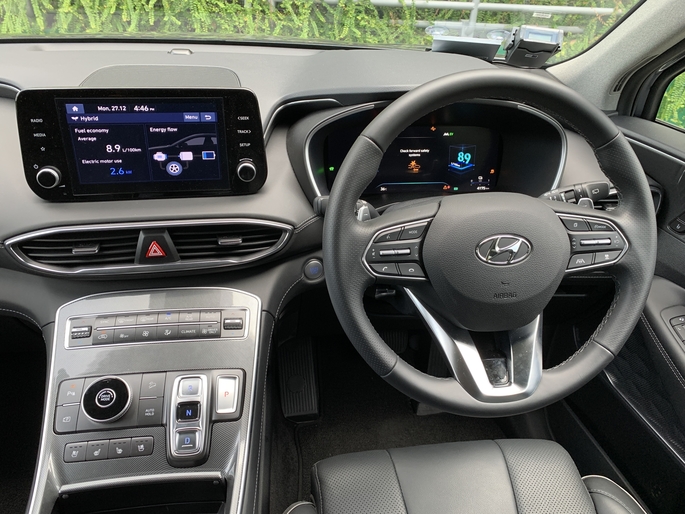 Why it's cool
The Santa Fe is not a dinky SUV – it is 4,785 mm long, 1,900 mm wide and 1,710 mm tall with a 2,765 mm wheelbase, and weighs in at about 1,800 kg. Its three rows of seats will accommodate seven adults comfortably in a tranquil and unusually opulent environment.
Yet its relatively small engine powers it more than adequately. Acceleration is adequate and there are three drive modes, operated by a large knob on the lower centre console – Eco, Sport and Smart – with the last one automatically adjusting gear shifts according to the driving style.
Its handling is sufficiently confident too, with an appropriate amount of composure in corners for such a tall car, thanks to front MacPherson struts and rear multilinks.
Best of all, it comes with SmartSense, Hyundai's familiar and welcome suite of driver assistance features including:
• Smart Cruise Control to set a specified distance from the vehicle in front
• Lane Keeping Assist with Lane Following Assist that automatically corrects steering to keep the car in lane
• Rear Cross-Traffic Collision-Avoidance Assist to stop the car if there is a collision risk when reversing
• Forward Collision-Avoidance Assist that provides emergency braking and when turning at a junction
Leading Vehicle Departure alert, that useful feature to let you know traffic is moving again as it centres the car
Hyundai Santa Fe Hybrid
Engine – 1,598 cc inline-4 turbocharged
Electric motor – 44.2 kW
Li-ion battery – 1.49 kWh
Total system output – 230 hp @ 5,500 rpm
Torque – 265 Nm @ 1,500-4,500 rpm
Gearbox – 6-speed automatic transmission
0-100 kmh – 8.9 secs
Top speed – 187 kmh
Find out more about the SANTA FE Hybrid