2021 is a significant year for Komoco Motors as we offer a full line-up of different SUVs to meet our customers' varied needs and reach out to new customers who have known us for only a few models. Our SUV line-up can be compared to pieces on a chessboard, from the smaller Venue for small families to the electrified SUV of KONA Hybrid and KONA Electric to our Hyundai's largest and biggest SUV, our flagship Palisade. And more recently, we complete our SUV range with the latest Tucson and Santa Fe Hybrid. We share stories of customers who joined our SUV family.
With wedding bells ringing soon, the first car that Mr Jacky Narayan and his fiancée, Ms Catriona Byrne wanted to own together was the KONA Hybrid. They were particularly drawn to the strong road presence that the KONA Hybrid exudes, and have heard of quality and reliable service standards from their family members. And most notably they shared, "in comparison to numerous mild hybrid options in the market, we feel the Kona Hybrid has true hybrid capabilities as the SUV is actually able to run on EV mode to reduce emissions and provide fuel economy."
What are your favourite features of the Kona Hybrid?
We appreciate the vibrant urban feel of the SUV hybrid. The centre grille is distinctive and well highlighted by the stylish exterior design.
Also, we find Hyundai SmartSense, full suite of advanced safety & driving assistance features, most useful! We actively utilise the Smart Cruise Control with Stop and Go and feel safer to have the safety features like Forward and Blind-spot Collision Avoidance Assistance.
What made you decide on the KONA Hybrid as your first car?
As we were looking to purchase our very first car, we shopped around at all the car dealers and were ultimately most impressed by Komoco Motors Sales and Service standards.
We have positive experience with our Sales Consultant, as well as, good word of mouth referral from our family members who own Hyundai vehicles on the great reliability & Aftersales standards of the brand. We were attracted to the Kona Hybrid as it offered style and technology of a modern day 2021 car with all its features.
How did you find the Kona hybrid?
We were surprised with how quiet and comfortable the drive was and greatly appreciated the instantaneous acceleration of the car.
Why did you opt for the Kona Hybrid instead of the Electric?
We set out looking for a vehicle with a smaller carbon footprint and did consider the electric variant. However with lack of charging options currently, we decided on the hybrid variant as it suits our lifestyle better.
How do you perceive Hyundai cars?
From our visits to the different dealers, it is clear that Hyundai is aware of and striving to meet modern day needs of customers and developing cars with design and technology which actually look like something purchased in 2021, whilst some brands still seem stuck in the past.
How do you find the fuel economy?
We are happy with the car's fuel efficiency – with air-con on in normal driving; we get about 4.3L/100km. A full tank of petrol can last us up to 2.5 weeks.
What questions do your friends and relatives usually ask about the car?
They were intrigued with our choice and asked why we decided to purchase a Hyundai hybrid car.
What would you say to someone who's also interested in this car?
Highly recommend to anyone shopping for a new car to visit Komoco Motors. Depending on individual's needs and lifestyle, the Kona Hybrid should be one that they at least test drive and consider.
What do you think makes Hyundai such a great brand?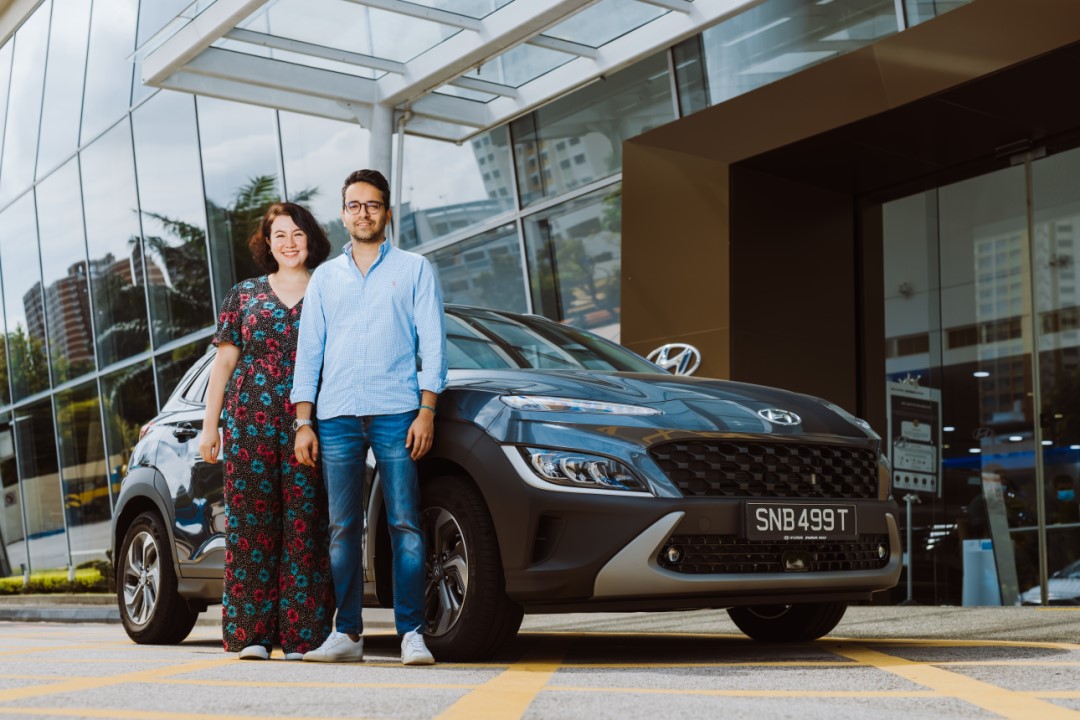 Find out more about the new KONA Hybrid.