What it is
In marketing, the brand-consumer journey can be understood through the AIPL model – Awareness, Interest, Purchase, Loyalty.
For electric vehicle (EV) brands which have been trying to break into the Singapore market in the past few years, it would appear that consumers are already passing the half-way point of that journey – thanks to government incentives and plans to roll out more charging stations.
But with more and more EV models slipping silently into showrooms, consumers may be unsure about which to choose. So why not take a leaf from your financial adviser's book and start small? But not too small that you will face range anxiety or cabin space issues.
One ideal candidate then is the Hyundai Kona Electric.
This attractive-looking sub-compact SUV is a pure electric model available in three variants with standard or long range.
At 4,205 mm long with a 2,600 mm wheelbase, it enjoyed a mid-life refresh recently, accompanied by striking new paintwork such as the Dive In Jeju shown here.
What is new
Apart from the six shiny new exterior colours, the Kona Electric's new stuff include:
• 25-inch digital cluster
• 8-inch Display Audio with multimedia features
• Ambient light technology to illuminate front footwells
• Sharpened front and rear lamps and smoother nose
• Snazzier 17-inch alloy wheels
• Blind-spot Collision-Avoidance Assist (BCA)
• Rear Cross-Traffic Collision-Avoidance Assist (RCCA)
• Leading Vehicle Departure Alert (LVDA)
• Safe Exit Warning (SEW)
• Rear Seat Alert (RSA)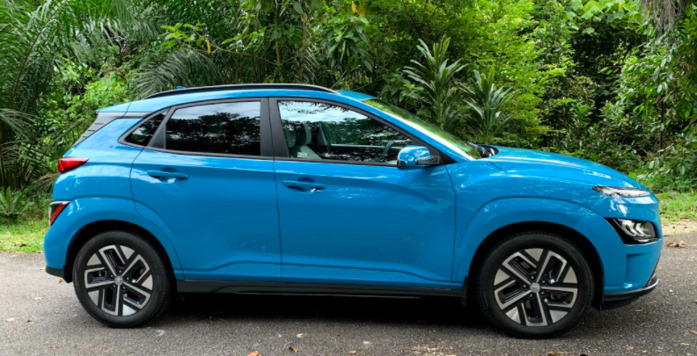 What it feels like
Inside the five-door electric crossover is a cabin that is modern and airy. There is no gear lever, only four buttons on the lower centre console for P, R, N and D.
Below them is a Drive Mode button to toggle between Eco, Normal and Sport, with each selection represented by its own look in the vivid 10.25-inch digital instrument cluster.
The front seats are ventilated and the driver's seat is electric with lumbar adjustment – all very luxe for a relatively dinky car.
But it is the drive that is the Kona's best attribute. Electric power means near-instantaneous torque and the Kona Electric can blast off like a ballistic missile. Forget about the 0-100 kmh sprint – unless you intend to drag race.
For short bursts of speed on the move, it delivers eye-popping elasticity. This pocket rocket is perfect for snappy overtaking and quick cornering.
Its handling is confident with an accurate steering and low centre of gravity due to the battery pack situated under the seat. The suspension set-up of front MacPherson struts and rear multi-links also contribute to its excellent composure.
There are other delightful features too. One is the ability to use the paddle shifts behind the steering wheel to not only adjust the intensity of the regenerative braking and slow the car, but also bring this EV to a complete halt just by pulling on the left paddle – without stepping on the brakes.
Another clever and convenient item is the Leading Vehicle Departure Alert (LVDA). If you're the kind who can't keep your hands off your smartphone while stationary at the lights, you will never get honked by an angry driver behind you when they turn green. That's because a chime and an image in the cluster with the message "Leading vehicle is driving on" will alert you that traffic is moving again.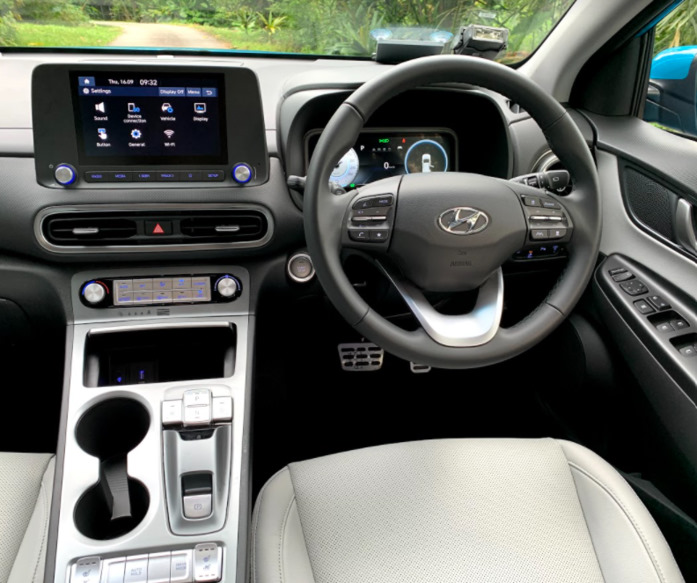 What is available
There are three versions of this Hyundai – the Kona Electric, Kona Electric Sunroof, and Kona Electric Sunroof Long Range.
The first two variants are equipped with a 39.2 kWh battery while the Long Range version has a 64 kWh battery.
39.2 kWh
Range: 305 km
0-100 kmh: 9.9 sec
Top speed: 155 kmh
Charging time:
Up to 100% – 4 hr 20 min (11 kW AC charger)
Up to 80% – 48 min (50 kW DC charger); 47 min (100 kW)
64 kWh
Range: 484 km
0-100 kmh: 7.9 sec
Top speed: 167 kmh
Charging time:
Up to 100% – 6 hr 50 min (11 kW AC charger)
Up to 80% – 64 min (50 kW DC charger); 47 min (100 kW)
Packed with Hyundai's full suite of wide-ranging safety features and impressive build quality, consumers who buy a Kona Electric will probably continue with the carmaker to the final stage of the AIPL journey – loyalty.
Hyundai Kona Electric / Kona Electric Long Range
Motor – Permanent magnet synchronous
Battery – 39.2 kWh / 64 kWh
Power – 100 kW / 150 kW
Torque – 395 Nm / 395 Nm
Transmission – Single-speed reduction gear
Range (WLTP) – 305 km / 484 km
0-100 kmh – 9.9 secs / 7.9 secs
Top speed – 155 kmh / 167 kmh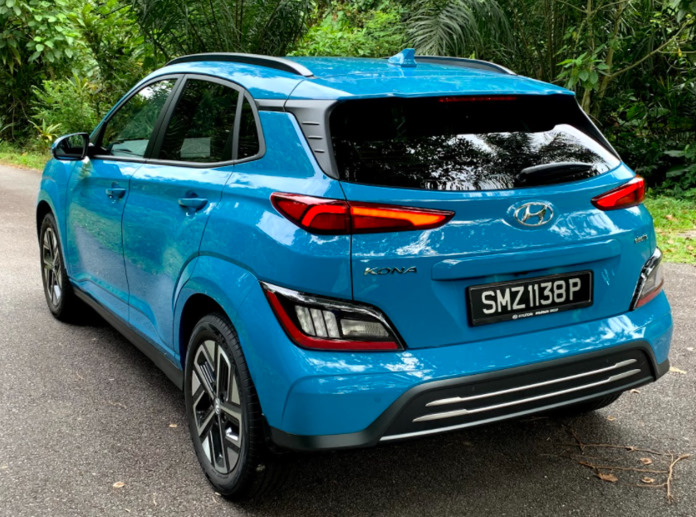 Find out more about the KONA Electric