Our lives have changed drastically in the past year. The time that we used to get up in the morning, go to work, and meet friends after work is now gone. We now spend more time alone and the value of cars is no longer just a means of transportation; it is transforming into a lifestyle space suitable for a new era.
Let's drive our car to a secluded and beautiful place to be in our own space. A car can be turned into our workplace, lounge, or accommodation if we could find a quiet place to park. New terms emerge such as 'Carffice', 'Carcnic', and 'Mobilitel', implying that there can be endless ways to utilize vehicles. "Reinventing space" is possible indeed. Together with Tucson, featuring much more sensuous and dynamic looks, shows a new lifestyle that can be enjoyed in a car.
Private office space near the ocean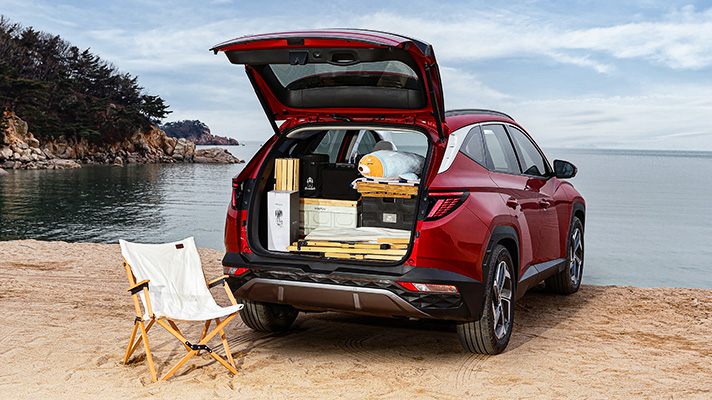 As a freelance writer, I try to start and finish my work just as other workers do. I thought this could improve my work-life balance. But today, unlike usual, I left the house early and headed for a quiet beach. I spent a whole day with Tucson and packed a lot of luggage to work, eat, rest, and play. The 622ℓ-cargo space of the Tucson Smartstream Gasoline 1.6 Turbo easily handled so much luggage that it seemed not compact at all compared to a midsize SUV.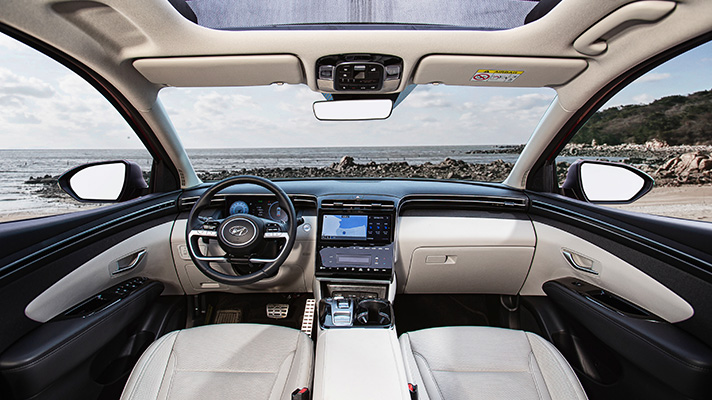 When you imagine working in a car, you'll picture yourself working uncomfortably with a laptop on your lap in the front or back seat. But in Tucson, you can create a comfortable office space. Best of all, Tucson gives the interior an open and spacious look using the open-type cluster, push-button shift, and interior elements that widely embrace the dashboard and doors. If you open the panoramic sunroof near the shore, it will feel so much cooler.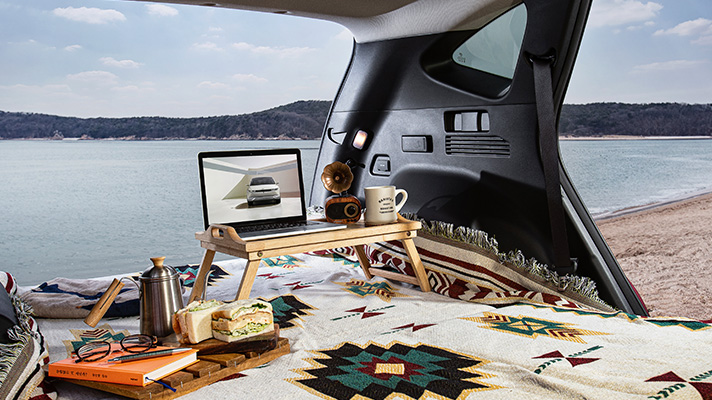 It's nice to sit and work sitting on soft leather seats - but what if you could fold all the back seats and work in a spacious cabin? The second-row seats offer a fold and dive function that allows the seat to slide down 67.4mm to create a flat floor. With this feature, you can create a comfortable seating area without a hump. Working while surrounded by nature was much more inspiring and efficient than being stuck in a house.
Life really is a picnic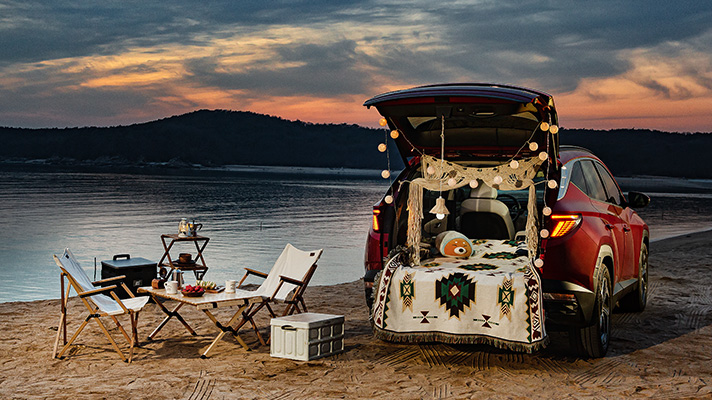 It's time to head back home already; time flew by so fast when surrounded by a soft sea breeze and music. I used to skip meals often and work late because at home it was even hard to tell the time with nowhere else to go. However, when you are in nature like this, the sunset tells you what time it is and lets you know what to do. And I am sure I am not the only one who gets hungry and everything tastes better when I am outside.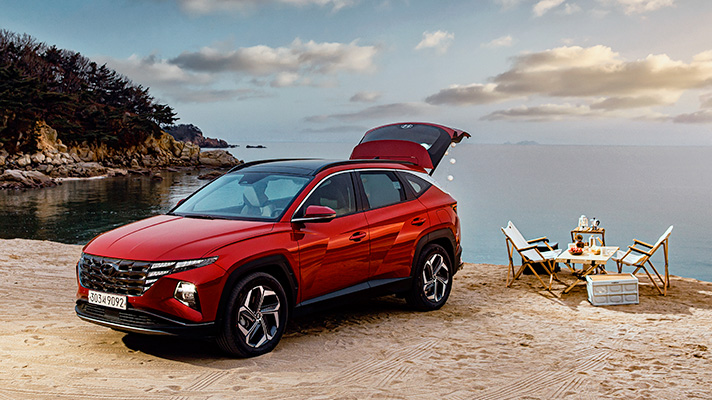 Sitting outside next to my car, I finished supper fast. Many people who camp outside usually start a fire to grill meat or cook food. However, I just brought sandwiches and some fruit to reduce waste and make it easier to eat. So, it was quite a simple supper. Thanks to the quick mealtime, I could enjoy the luxury of photographing the momentary beauty of Tucson's dynamic body in the red sunset.
My own relaxation room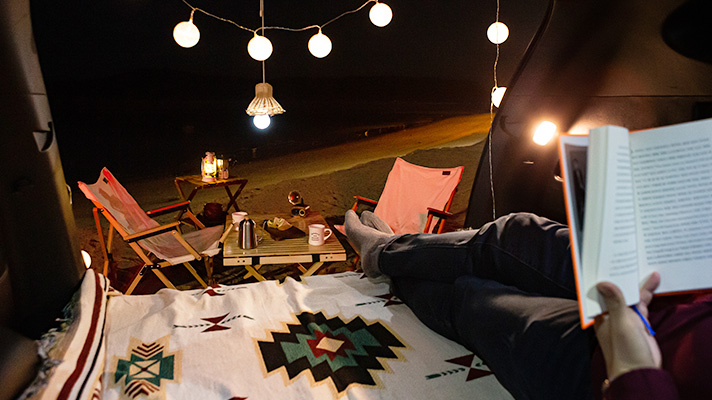 The sun sets over the horizon and darkness descends. With a lamp on inside the car, Tucson became a comfortable study. A 180cm-tall adult can lie down completely in Tucson with the rear seats folded. The width is 15mm wider and the length increased by 150mm, and the wheelbase is also 85mm longer than its predecessor. This creates a spacious cabin where you can stretch out your legs and read books comfortably.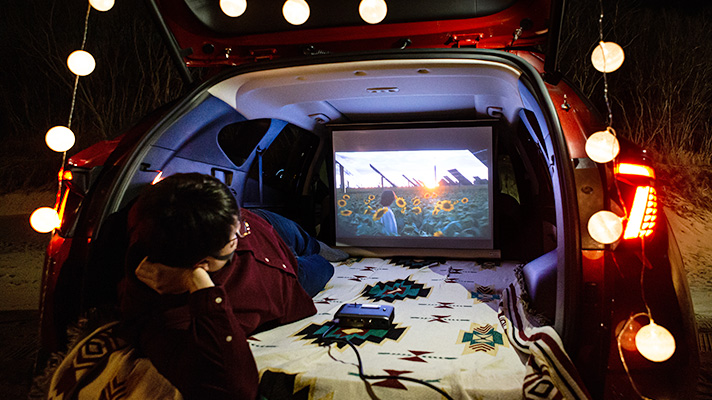 If I had been there any longer, I would have almost fallen asleep. I put the book aside and took out the item I prepared for this moment. Probably a lot of people would remember the advertisement when Tucson was released. What caught my eye was a guy watching a movie while lying comfortably in the car. It was something I really wanted to do. So, I brought the wireless projector and 42-inch screen for this moment, and it was worth every penny. I will never forget the moment when a beautiful image appears on a white screen. It was amazing to be in a private movie theater being quiet in nature.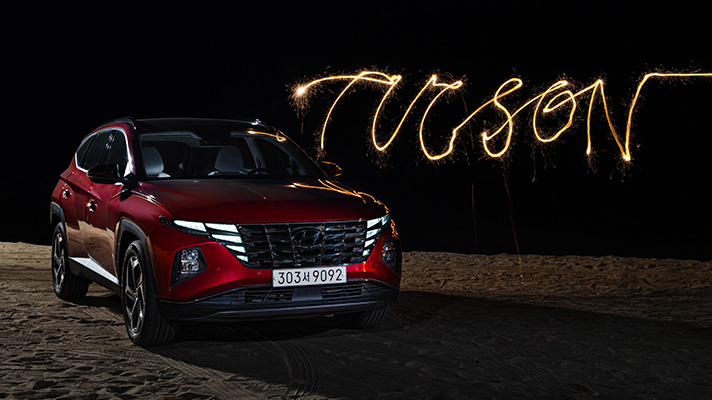 After watching the movie, I looked at my Tucson standing straight before returning home. I was happy to be in Tucson; it provided space for me to work, eat, and rest comfortably. I used to think it was just a car that takes me to my destination, but today's journey made everything look different. Where should I travel to next? With the mighty Tucson, I'm already excited about my next trip and the new everyday life.
Photography by Choi Dae-Il, Kim Beom-Seok
Discover the all-new Hyundai TUCSON.