According to the American EV magazine INSIDE EVs, Worldwide EV sales in 2019 rose to 2,209,831 units, showing a 10% increase compared to the previous year. Consumers now started to find EVs not only eco-friendly but also powerful enough. Bloomberg New Energy Finance, too, estimates the sales to reach 10 million units in 2025, 28 million in 2030, and over 56 million in 2040. Here's what makes these EVs so much more appealing.
The advent of rapid charging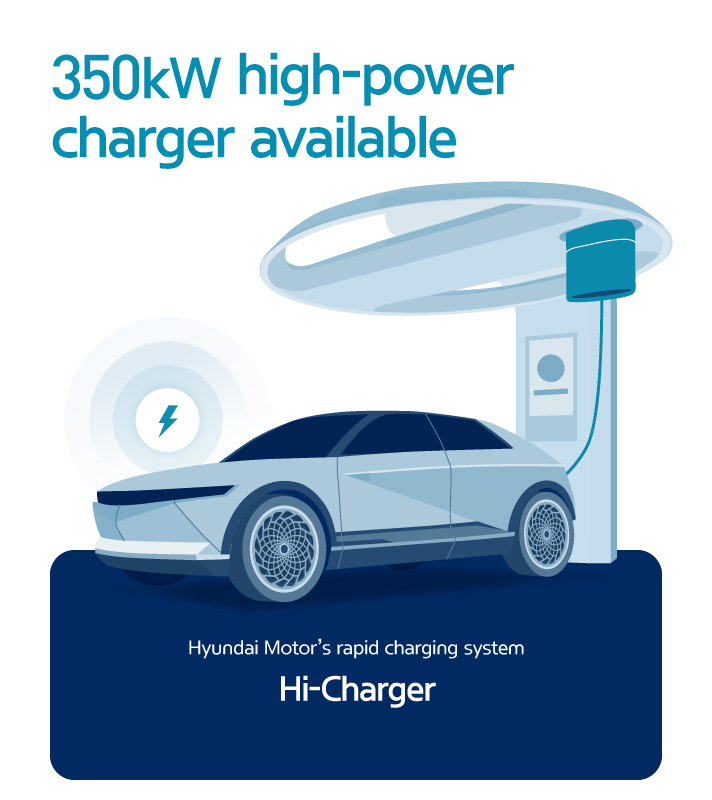 Electric vehicles run entirely on electricity and therefore they need a charging system. At first it took quite a long time to charge an EV, but now a 350 kW high-power charger can charge up to 80% of the battery within an hour.
EV charging infrastructure features 350 kW high-power charger, according to an announcement in 2019. In the case of an EV with an 800V high-voltage charging system, called Hi-Charger, charging time can be drastically reduced since a 350 kW high-power charger can empower an EV twice as fast as current rapid chargers. The charger is known to charge up to 80% of the battery within only 20 minutes. So far, Hyundai has two Hi-Chargers at Hyundai Motor Studio in Goyang, South Korea, and plans to expand the business.
IONITY, Europe's largest EV charging station supplier, has started to provide 350 kW-chargers along the highways. IONITY will expand the network to 400 fast-charging stations throughout 24 countries in Europe within this year. Hyundai and Kia signed a deal with IONITY to invest in its infrastructure network.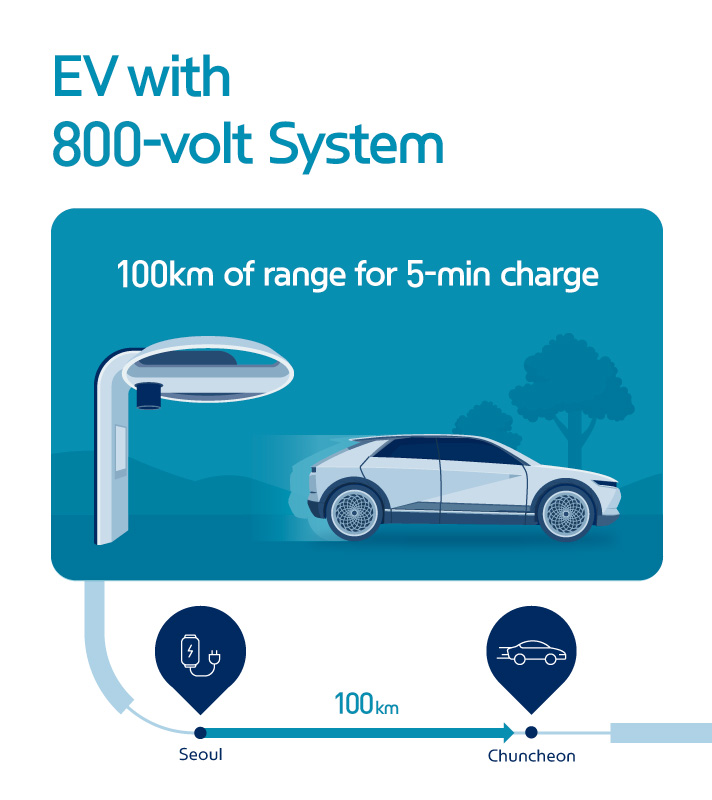 There will be more various kinds of platforms as rapid charging stations become more available. Most of the electric vehicles currently are featuring lower than a 400-volt charging system, of which the charging capacity is to be 150kW. However, if the modular system can be upgraded to 800-volt, the vehicle would drive up to 100 kilometers after just five-minute charging.
A higher voltage power net can decrease the weight by a huge amount. Increased voltage reduces current, which decreases wire thickness as well. Lower current also improves energy efficiency and range. This is why Hyundai Motors announced its plan to use the 800-volt electrical system when the company showcased its EV concept 45 at Frankfurt Motor Show back in 2019.
Modular Platform - Just For the EVs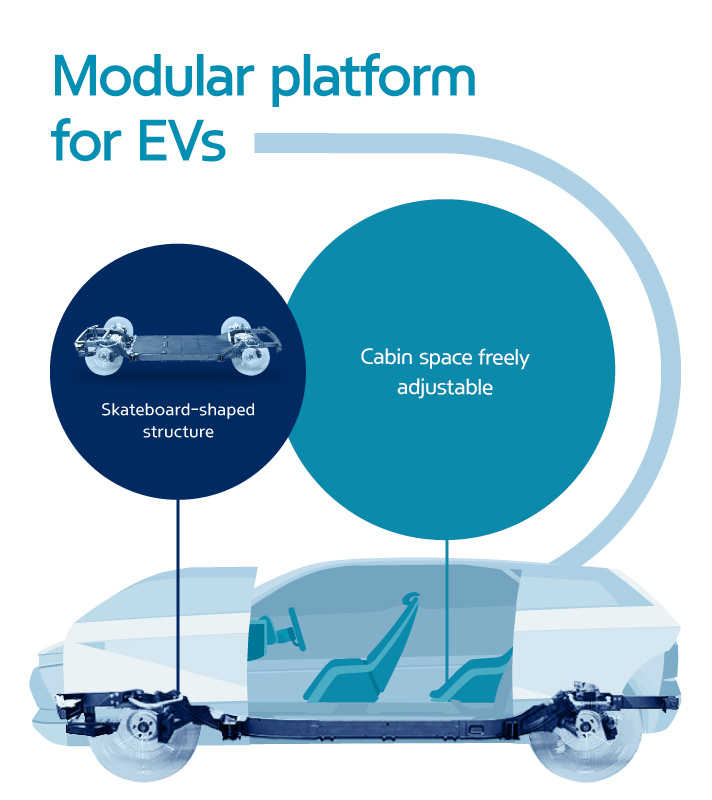 Hyundai Motors is now developing each EV model at a time, but soon they will be able to modularize the platform to easily produce various kinds of models with different batteries and motors. The modular platform would save time and money spent on mass-producing, minimizing body weight and size.
With Hyundai Motor's new EV concept 45, the company illustrated their personalized in-car customer experience strategy - Style Set Free - for future electric vehicles. Hyundai considers how future vehicles will offer customers more freedom to design their cars in a way similar to how people design their homes and shape their automobiles the way they do their lifestyles.
Using the skateboard-shaped EV platform developed by the American EV startup Canoo, Hyundai Motors announced its future mobility strategy - Purpose Built Vehicle(PBV). The PBV is a new urban mobility solution that can accommodate a wide spectrum of future lifestyles with limitless personalization. With self-driving and eco-friendly electric technologies, PBVs will have multiple forms and features based on how we are going to use them. Just the categories are - public transportation, multi-purpose space, medical services, residential spaces, pop-up stores, and logistics. The essential part of this skateboard-shaped platform is that it houses the batteries and other parts underneath the vehicle to make plenty of room inside the cabin.
Energy-efficient In-Wheel Motor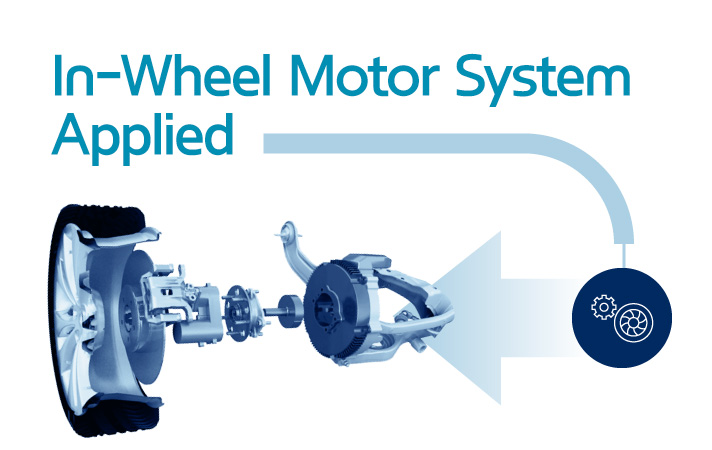 The in-wheel motor system enables independent driving and braking with an electric motor equipped inside the wheel. It is a future-oriented, eco-friendly system that does not require an internal combustion engine, gearbox, or drive shaft. The motor and the brake are attached to each wheel, maximizing energy-efficiency and cabin space.
Automakers in Germany, Japan, and the U.S. are also working on developing the system. Hyundai Motors showcased its concept model with the in-wheel motor in it through the Hyundai N 2025 Gran Turismo design back in 2015. The system will be widely used in other electricity-powered, eco-friendly vehicles, such as FCEVs.