SINGAPORE – Car designers have it relatively easy whenever they are tasked with creating a beautiful sports car. The collective mindset of consumers everywhere already provides a useful template for them to work on – compact, low-slung, light, two seats, windswept silhouette, big wheels and so on.
The real challenge is to make a huge, comfortable multi-seater beautiful – a task akin to turning the Hunchback of Notre Dame into actor George Clooney.
But Hyundai has done admirably well with the Palisade, an enormous car which seats seven with plenty of room to spare. Despite its elephantine dimensions, it is attractive, in an imposing sort of way.
Instead of going for the space-efficient boxy shape like the Toyota Alphard, Hyundai has chosen to make the Palisade wagon-like. It is 4,980mm long, 1,975mm wide and 1,750mm tall, making it accessible to all covered carparks here. The 2,900mm wheelbase is quite adequate for three rows of cushy seats and yet a half-decent stowage area in the rear.
Styling-wise, it is like a sport utility vehicle, with an oversized metallic grille which the car wears like an armoured chest plate. Flattened wheel arches, undercarriage protection, roof rails and an illumination package impressive enough for a light show all come together in a sporty package that celebrates the Palisade's XL presence.
The model arrived in Singapore two years ago and the facelift seen today is even more of an eyeful.
It wears 20-inch multi-spoke wheels, which look right-sized for the car. But the most attention-grabbing change is its grille, which is now bolder and shinier. Compared with the pre-facelift, it has a larger, more rectangular surface area – with more than 50 three-dimensional metallic tiles cascading down a sheer wall, reducing in size as they descend.

The Palisade's lights are no less impressive. Powerful projector-style LEDs are arranged in two vertical rows and flanked by daytime-running lamps. The grille, bumper and showy skid plate below blend to form a seamless front assembly which conveys seriousness and confidence.
There are more changes inside. The third row of seats can be folded with the touch of a button, which makes it a cinch when you need to carry more cargo. Less useful, though, are the heating elements in the seats.
In the cockpit, the Palisade gets a larger infotainment system, a new digital instrument cluster and a head-up display. Nappa leather is now the upholstery of choice.
The remaining changes are not immediately visible, including Remote Smart Parking Assist (which allows you to park the vehicle with its remote key), Parking Collision-Avoidance Assist while reversing (which stops the car automatically when it is close to an obstacle), Blindspot Collision-Avoidance Assist and Forward Collision-Avoidance Assist (which can detect pedestrians, cyclists and junction turnings).
But being as large as it is, it is likely that other road users will see the Palisade first and avoid it if necessary.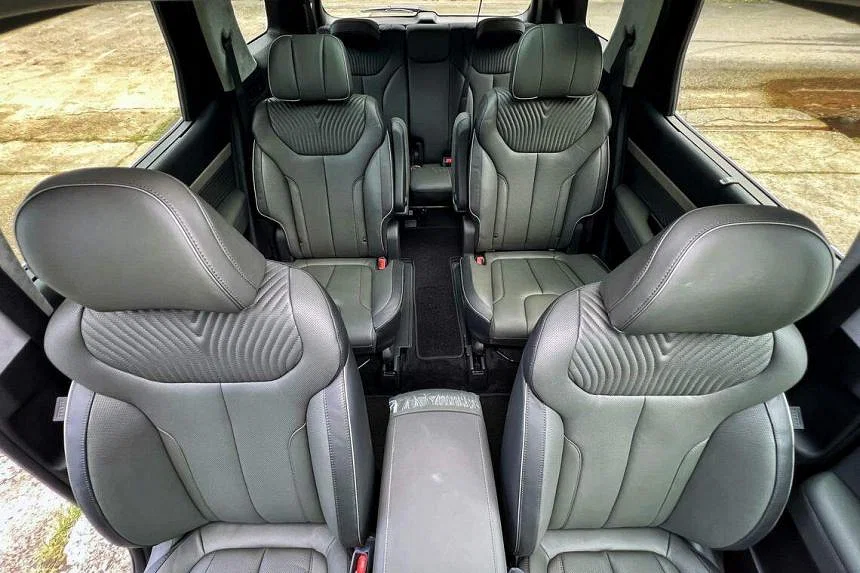 Size has its share of advantages and disadvantages. Roominess is clearly a strong plus point. Accessibility to the third row is also easier. And a 3.5-litre V6 ensures a relatively effortless time at the wheel. In fact, you often have to temper throttle pressure to prevent wheelspin.
Despite weighing nearly 2 tonnes, the big Hyundai is swift and spontaneous on the go, often feeling quicker than its 8.2-second century sprint suggests.
Surprisingly, it is not as cumbersome as expected, and is able to negotiate older, tighter carparks adequately. Its remote parking feature allows the behemoth to slot into small spaces in these carparks and then exit later when you are ready to leave. Otherwise, opening the doors in such parking spaces with pillars or walls in the way is near impossible.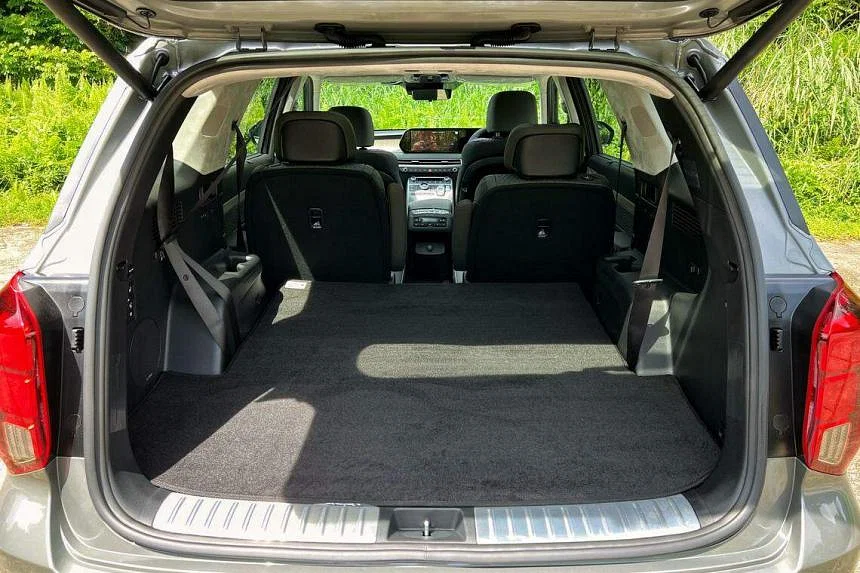 The disadvantages are higher-than-normal fuel consumption. On highways, the car will usually clock 12 litres/100km, but on city roads, its consumption climbs easily above 16 litres/100km – versus the manufacturer's declared 10 litres/100km. Annual road tax is also pretty high – at $3,122, compared with, say, a Toyota Alphard's $1,792 (if you pick the 2.5-litre variant).
And like all premium to high-end cars, the Palisade now costs much more than before – largely because of the vehicular tax changes announced at Budget 2023 last week, and partly because certificate of entitlement premiums for such cars are at record levels.
At $302,999, the massive people mover is $86,000 or 40 per cent costlier than when it was launched here two years ago. But for those who can afford it, the pleasure of ownership will remain long after the initial pain is gone. Maybe.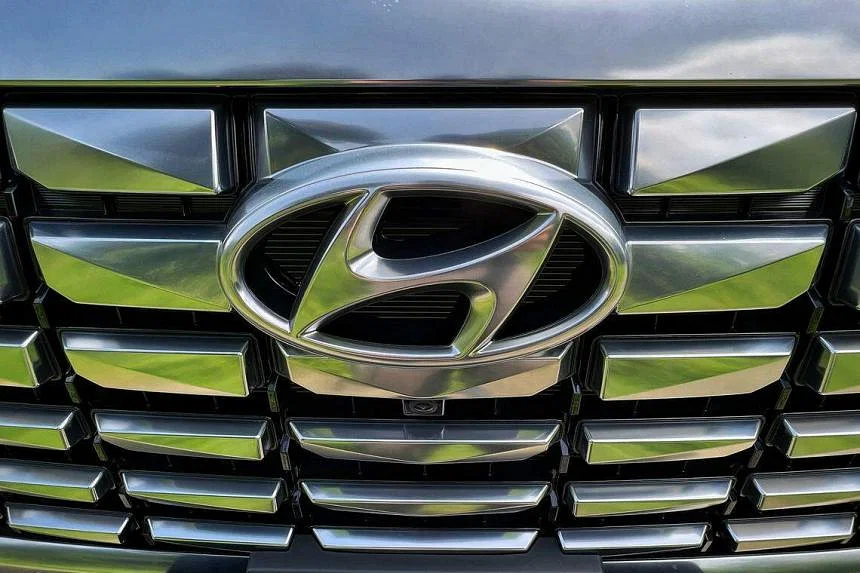 HYUNDAI PALISADE

PRICE: $302,999 with COE
ENGINE: 3,470cc 24-valve V6
TRANSMISSION: Eight-speed automatic with paddle shift
POWER: 277hp at 6,300rpm
TORQUE: 336Nm at 5,000rpm
0-100KMH: 8.2 seconds
TOP SPEED: 210kmh
FUEL CONSUMPTION: 10 litres/100km
AGENT: Komoco Motors