FRI, JUN 02, 2023 - 04:00 PM | UPDATED FRI, JUN 02, 2023 - 5:02 PM.
Made-in-Singapore editions of the Hyundai Ioniq 5 are ready to hit the streets. In some ways they also feel made for Singapore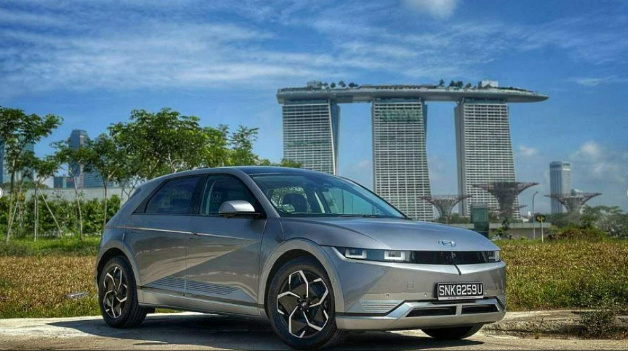 BELIEVE it or not, the Hyundai Ioniq 5 could be the best car you can buy for S$200,000 at the moment, with an entire Certificate Of Entitlement (COE) thrown in. It's roomy as a church hall, refined as a Victorian school mistress and in Prestige trim, it has standard equipment coming out of its ears.
That might seem like a strange recommendation because in some ways, the Ioniq 5 is old hat. The electric five-seater made its global debut more than two years ago, and Hyundai itself sold a handful here in September 2021, subsidising buyers in exchange for being able to interrogate them on their views about life with a battery-powered car.
But the Ioniq 5 is back in the spotlight for two reasons. First, buying one now would be a patriotic thing to do, because they roll out of Hyundai's spanking new building at Bulim Avenue in Jurong, where local hands bolt them together.
That in itself is an interesting story; the Bulim plant can churn out roughly 30,000 cars a year, but car factories usually need to build at least four times as many as that to be viable.
Perhaps the economics of car assembly are different in the electric era, and Hyundai wants to see if it can make small-scale manufacturing work. Perhaps it wants to make car-buying more of an atelier experience, in which a nearby plant starts to put your car together after you seal the deal, and you can go watch the magic happen if you want.
Either way, the second intriguing thing about the Ioniq 5 now is that Hyundai has put together something of a Singapore special. Just for us, the standard range model, with its 58 kilowatt-hour (kwh) battery pack, has a 145 horsepower motor that lets the car sneak into the Category A COE segment, where prices are usually lower.
It's a sensible move that helps make the Ioniq 5 a sensible buy. In fact, it's easy to see why the car has won rave reviews elsewhere. For a start, it's endowed with good, clean lines and pixelated lights that look like a retro nod to 8-bit computer graphics, while the bold slashes across its flanks really draw the eye.
Inside, it's just as modern. Two displays (one of them a touchscreen) take care of driver and infotainment info, and there are still physical controls (including a blessed volume knob for the sound system). It's all laid out with impeccable neatness, so the cabin is easy on the eye, even if it doesn't quite have the Zen-like minimalism of a Tesla interior.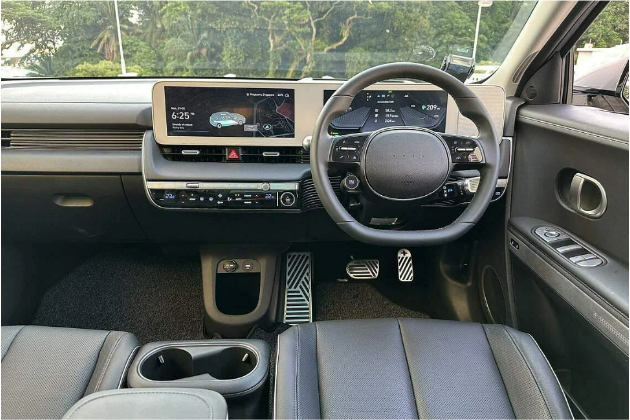 More to the point, the Ioniq 5 capitalises on the skateboard-like layout that dedicated electric cars have, so it's incredibly roomy inside. A long wheelbase means there's an enormous amount of rear legroom, and at 527 litres the boot is usefully large. There's also a froot (that is, a front boot) under the bonnet where you can stash loose items that would otherwise clutter the caboose.
What makes the Ioniq 5 such great value is that it seems to come with everything. The Prestige version has Android Auto and (wireless) Apple CarPlay, a native navigation system, rudimentary but useful voice control, ventilated front seats, a glass roof, head-up display, excellent parking cameras, plus an array of safety systems, including not just blind spot monitors, but the ability to steer you away from an obstacle in the next lane if you're in danger of blundering into it.
There are even zero-gravity front seats, which apparently let occupants recline in a way that almost feels like floating. Imagine a quick nap in air-conditioned comfort while waiting for school to disgorge your kids.
Hyundai has a couple of apps to go with the car, too. One functions as a remote, allowing you to toot the horn for kicks, look up a destination and send it straight to the car's navi system, that sort of thing. It also lets you switch on the A/C with a single tap, which is a game changer. If you ask me, the pre-cooled car is right up there with jet travel, anaesthesia and the electric guitar, in terms of mankind's great inventions.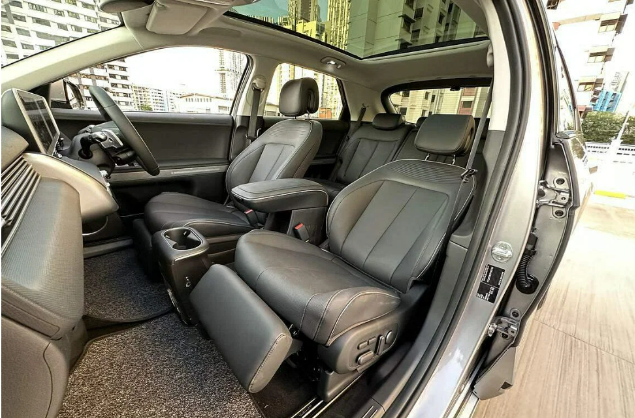 Another app called Ioniq Care+, designed just for Singapore, provides some insight into the Ioniq 5's lithium-ion heart. It monitors battery health, gamifies energy consumption so you can turn efficient driving into a competitive sport with other Ioniq 5 drivers, and offers tips on how to treat the battery pack more kindly. It cautions against fast charging too frequently, for example.
As for how the Ioniq 5 drives, its main strength turns out to be a weakness, too. The motor's reduced output may make the car cheaper to buy, but it also makes the acceleration ho-hum. Then again, the Ioniq 5's soft damping doesn't lend itself to sporty handling, so it's best to think of the car as a kind of rolling living room. It's admirably quiet on the move, and the ride quality beats a number of stiffly-sprung electric cars I can think of. Comfort, not excitement, is where your expectations should lie.
Then there's the range, which is given as 384 kilometres but is probably somewhere around 300 km in the real world (assuming you don't want the Care+ app to scold you for habitually running the battery down to near zero).
That's fine for Singapore but makes long road trips a pain. Yet, what is this car if not something that feels edited for our market? It's been detuned to slip into Category A, and the Care+ app was essentially created to demystify battery usage and lessen the anxiety of owning what people here still consider a newfangled kind of car.
Otherwise, there's still the versions with a 77 kwh battery. They need a pricier Category B COE, but one is rated for 507 km, while a twin-motor variant scorches to 100 kmh in just 5.1 seconds. The idea is that if you want more from your Ioniq 5, you can have it as long as you pay more. What could be more Singaporean than that?
Hyundai Ioniq 5 Prestige 58 kWh
Electric motor / layout Single / Rear
Motor power / torque 145 hp / 350 Nm
Battery type / net capacity Lithium-ion, 58 kWh
Normal charge type / time 11 kW AC / 5 hours
Max fast charge type / time 350 kW DC / 17 minutes (10 to 80 per cent)
Range 384 km
0-100 kmh 9.5 seconds
Top speed 185 kmh
Efficiency 16.7 kWh/100 km
Agent Komoco Motors
Price S$199,800 with COE
Available Now